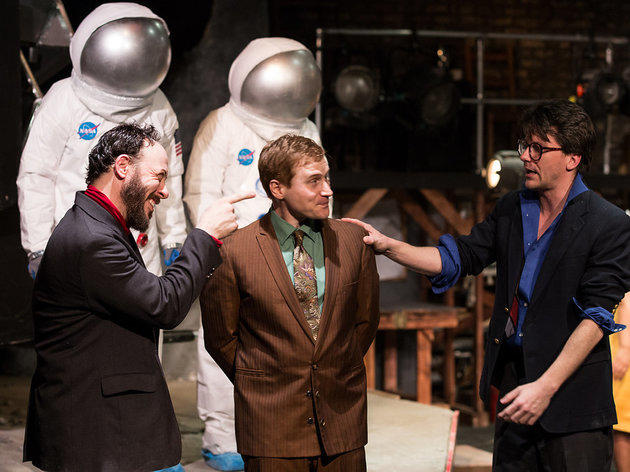 1/4
Photograph: Joel Maisonet
Malcolm Callan, J.P. Pierson and Scot West in Lunacy! at Jackalope Theatre Company
2/4
Photograph: Joel Maisonet
Jessie D. Prez, Pat Whalen and Will Kiley in Lunacy! at Jackalope Theatre Company
3/4
Photograph: Joel Maisonet
Scot West, Pat Whalen and Jessie D. Prez in Lunacy! at Jackalope Theatre Company
4/4
Photograph: Joel Maisonet
Kaiser Ahmed and Charlie Strater in Lunacy! at Jackalope Theatre Company
Stanley Kubrick shoots the moon in Jackalope's spacey what-if farce.
Nearly 50 years after the Apollo 11 astronauts made the first manned moon landing, the idea persists among stubborn conspiracy theorists that the mission, and the five other manned landings that followed, were a hoax perpetrated by NASA and the government. Andrew Burden Swanson's new "cryptohistorical comedy" at Jackalope takes that loony theory to its illogical conclusion, imagining a top-secret operation to film a fake landing that involves blackmailing Stanley Kubrick (Malcolm Callan). Oh, and the guy in charge? A certain ex-Congressman named Donald Rumsfeld (Scot West).
The whole shebang is, as the young NASA scientist (Will Kiley) drafted as a lunar consultant puts it, "a massively absurd solution to a very serious problem," and Swanson leans into the absurdity—maybe a bit too far. West's awkwardly egomaniacal Rumsfeld is fascinatingly funny, and the ongoing business with his two deadly serious bodyguards (Jessie D. Prez and Pat Whalen) getting assigned to play Neil Armstrong and Buzz Aldrin and falling in love with acting is enjoyably goofy.
But with so many competing subplots and characters—Kubrick's officious studio managers and weirdo stagehands, a couple of extraneous NASA types, Kiley's idealistic quasi-protagonist—there are almost too many threads. Director Gus Menary does a nice job of keeping everyone mostly on the same page, but this fake moon's a wee bit too full.
Jackalope Theatre Company. By Andrew Burden Swanson. Directed by Gus Menary. With ensemble cast. Running time: 2hrs 5mins; one intermission.