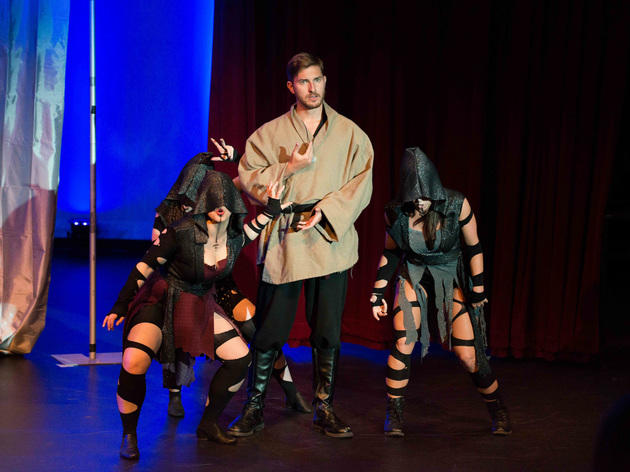 1/4
Photograph: Jennifer Frankfurter
Sarah Wisterman, Lisa Tosti, Nick Toussaint, Janae Hohbein in MacSith at EDGE Theatre
2/4
Photograph: Jennifer Frankfurter
Allison Reinke and Sara Yenter Briars in MacSith at EDGE Theatre
3/4
Photograph: Jennifer Frankfurter
Nick Toussaint and Lexi Saunders in MacSith at Edge Theatre
4/4
Photograph: Jennifer Frankfurter
Rick Olson and Nick Toussaint in MacSith at EDGE Theatre
E.D.G.E. Theatre's campy Shakespeare mash-up dresses a production of Macbeth in Jedi robes.
You don't have to know the difference between a Ugnaught and a Dewback to enjoy MacSith. Star Wars fans will find plenty of nods to George Lucas's films in E.D.G.E. Theatre's remounting of its Shakespeare mash-up—which features lightsaber duels and bounty hunters—but anyone who read Macbeth in high school will likely recognize the beats of "The Scottish Play."
Retaining the language and plot of its source material, MacSith doesn't integrate the mythology of a galaxy far, far away with the bard's dramatic tale so much as it simply dresses the story of Macbeth in Jedi robes. The "weird sisters" become tattooed Sith witches, slain characters return as glowing blue "Force ghosts" and disputes are settled with lightsabers instead of daggers and swords. Mon Beth's (see what they did there?) descent into power-hungry madness coincides with his embrace of the dark side, indicated by a costume change and his adoption of the foreboding (and, frankly, somewhat obvious) moniker of MacSith.
There's a certain amount of camp that rears its head throughout MacSith, including a distracting orchestral score and choreographed lightsaber fights that unfold with all the subtlety of an action figure battle. If you've suffered through The Phantom Menace, you can probably stomach it. Much like the infamous Holiday Special or those TV movies about Ewoks, MacSith is a Star Wars curiosity. It's far from essential, but there are worse ways to kill time while you wait for The Force Awakens.
E.D.G.E. Theatre at Pendulum Space. Adapted by Orion Couling and Jared McDaris. Directed by Couling. With ensemble cast. Running time: 1 hr 10mins; no intermission.