Males Order Brides at Quest Theatre Ensemble | Theater review
A dastardly lawyer and a multitasking actress dupe a quartet of bachelors in Quest's family-friendly, popcorn-chucking melodrama.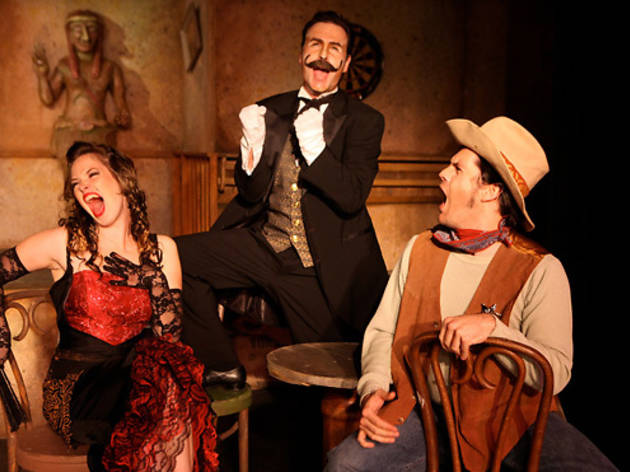 For families with mischievous children, there's no better bargain in Chicago than Males Order Brides, a melodrama with all the subtlety of Yosemite Sam but offering infinitely more opportunity for kids to disrupt and enhance the unfolding antics. In an abstract Old West, four men, believing their town devoid of suitable mates, employ an ingenious, dastardly lawyer to procure the women of their dreams, only to discover their true loves are right under their noses.
The slog to this conclusion is devoid of surprise, sure, but not of delight, as the audience is dutifully trained to cheer the hero and both boo and throw popcorn at the villains, a mustached Jason Bowen and Kieran Welsh-Phillips, who earns her keep embodying the actress turned extortionist who portrays each of the prospective brides. Yet Kentucky community-theater scribe Billy St. John (whose participatory melodrama fare also includes such gems as Evil Doings in Queen Toots' Tomb and Heaven Help the Po' Taters) offers only obvious, tired jokes, and the second act loses all momentum in what should be a dazzling set piece of quick-change astonishment. And too often the actors are disoriented by the perfectly timed popcorn-chucking of a prepubescent Marx brother.