Marat/Sade at Right Brain Project | Theater review
Right Brain's revisit to Peter Weiss's 1964 landmark isn't likely to inspire revolution.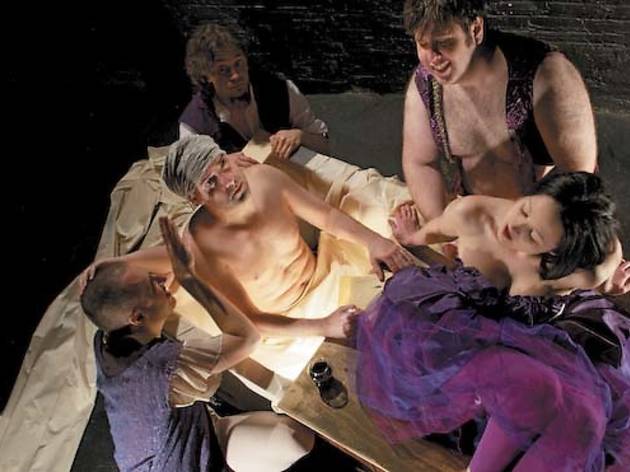 Peter Brook's original 1964 production of Peter Weiss's Marat/Sade—"(full title upon request)," as Walter Kerr once put it in Harper's—is legendary among theater talkers. Weiss's nose-thumbing play-within-a-play imagines the Marquis de Sade penning a reenactment of the French Revolution and the assassination of the radical Jean-Paul Marat performed by the patients of an insane asylum. Brook's staging is credited with launching the fringe movement in Britain but also won four Tonys when it moved to Broadway in 1965. "It changed the lives of most people who saw it," a longtime London critic recently wrote.
Nathan Robbel's ambitious staging for Right Brain Project tries to maximize the play's chaotic atmosphere by having the inmates outnumber the audience; Robbel packs 29 actors and 21 audience members into RBP's small (and, let it be noted, sweltering) loft space. The result is interestingly messy, but it's more mess than interesting. The room is packed with so many attendants, nuns and twitching patients as to achieve a counterproductive level of confusion. The downstage debates between bathtub-bound Marat (a haunted Chad Gowen Spear) and De Sade (a lugubrious Vincent L. Lonergan) about the nature of revolution are no match for the constant, writhing action behind them.
That back-and-forth about the oppressed and the oppressors draws some strength from current parallels to Occupiers and the one percent. But Robbel doesn't address the distracting point-of-view problem in Weiss's text: Aren't Marat's arguments supposedly written by De Sade, his philosophical opponent? At least the cast's renditions of the play's numerous Brecht-like songs are lovely.