Marisol at the Artistic Home | Theater review
José Rivera's poetic 1993 piece puts New Yorkers in the midst of a heavenly war.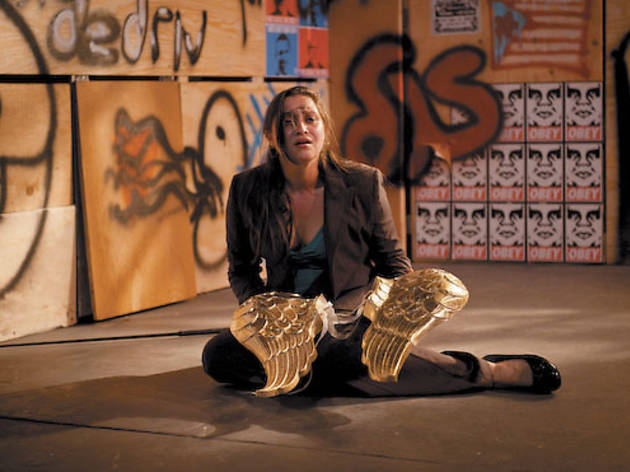 A visionary masterpiece about American identity and political conflict, with angelic visitations at its center, debuted in 1993. But it wasn't Rivera's Marisol. The Puerto Rican–born playwright's fantasia on pre-Giuliani New York plays a little like Angels in America's swaggering, scattered sibling. Bronx resident Marisol Perez (Evans) eludes death at the hands of a golf-club-wielding homeless man (Andrew Marikis), only to learn from a renegade angel (Sheppard) that a heavenly war has seeped into the metropolitan landscape, transforming huge stretches of it into a Big Apple Snake Plissken would recognize, with roaming bands of neo-Nazis setting the homeless aflame and random citizens suddenly transmuted into pillars of salt.
Rivera's poetic script is often brilliantly and disturbingly suggestive of the urban divides of race and class that marked its moment, though its flights of imagery don't always completely coalesce. The performances in Mossman's revival, ranging from energetic to histrionic, at times underscore the more contrived aspects of the playwright's writing. Evans, though, makes an appealing, plucky hero, handling the switch from office drone to unwilling combatant in a cosmic street war with humor and resilience, while Marikis memorably delivers one of the play's most compelling moments as a man almost completely covered in burn scars and in a wheelchair. The production features some quite strong design work; the soundscape by Adam Smith, in particular, evokes a New York before the East Village became an NYU dorm.