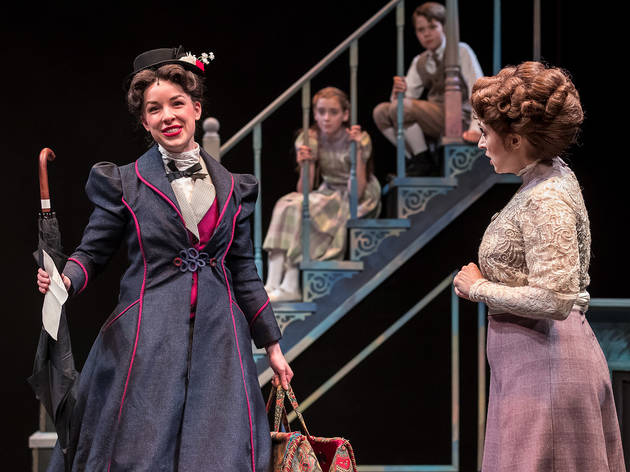 1/4
Photograph: Brett A. Beiner
2/4
Photograph: Brett A. Beiner
3/4
Photograph: Brett A. Beiner
4/4
Photograph: Brett A. Beiner
The Mercury Theater provides the latest punch card for Disney's magical stage musical.
Since the stage adaptation of Mary Poppins became available for licensing a few years back, P.L. Travers's travelling nanny has popped up at nearly every musical house around Chicago—currently at the Mercury Theater, where Nicole Armold (not too many years older than Mary's young charges) steps capably into the title role. Armold winningly emphasizes Mary's impish, insouciant qualities, even when the Mercury's physical and budgetary limitations put a cap on the theatrical magic she can dose out.
Director L. Walter Stearns's production finds inventive ways of making the medicine go down on his small stage, so that we don't even mind so much when we can see the turning gears (or black-clad puppeteers) behind the bells and whistles. Yet with musical vamps to cover scene changes underlining the multiple reprises that padded out the stage time even in the flashier London and Broadway productions, Mercury's staging highlights the sitcommy rhythms of the book by Julian Fellowes (Downton Abbey). Still, with nostalgic charms for the grown-ups, Armold as ringleader and strong character turns by the likes of Matt Crowle, Holly Stauder and Leah Morrow, Mercury's Mary Poppins is a decent (and pretty decently priced) family musical for the non-holiday season.
Mercury Theater Chicago. Original music and lyrics by Richard M. Sherman and Robert B. Sherman. Book by Julian Fellowes. New songs and additional music and lyrics by George Stiles and Anthony Drewe. Co-created by Cameron Mackintosh. Directed by L. Walter Stearns. With Nicole Armold, Matt Crowle, Kevin McKillip, Cory Goodrich. Running time: 2hrs 30mins; one intermission.