Melancholy Play at Grey Ghost Theatre | Theater review
Sarah Ruhl's unfocused early work makes a poor match for Grey Ghost's talented crew.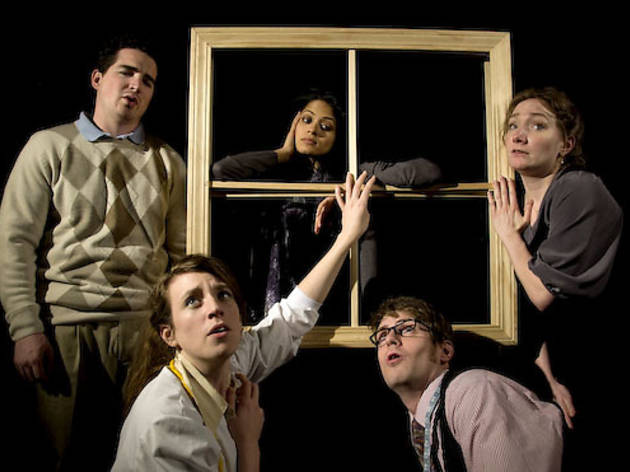 In an unspecified town in Illinois, melancholy is spreading like a disease, and depressed banker Tilly (Mouzam Makkar) is ground zero. The first produced play by MacArthur genius Sarah Ruhl, 2001's Melancholy Play has more in common with her most recent work, mediocre comedy Stage Kiss, than the rest of her library. The script is plagued with overly broad characterizations, a haphazard plot and a central premise that gets old quickly. Tilly's the kind of person who sympathizes with and pities each lonely hair that's cut when she goes to the salon; the people around her are captivated by her sadness. When she experiences a sudden mood change, her followers feel abandoned and begin transforming into dry, unfeeling almonds. Sound wacky? Throw in a heavily accented European therapist, random musical numbers and a fourth-wall-breaking cellist. It's Ruhl at her least focused, making it a poor choice for Grey Ghost Theatre's inaugural production.
Despite the text's flaws, Amber Robinson's talented cast, both polished and relaxed, adds depth to the messy material and develops organic relationships among the characters. Makkar delineates a convincing emotional shift, even if Tilly's motivations aren't precisely clear; she receives strong support from Andy Junk and Maggie McCally as two of Tilly's most devoted subjects. Grey Ghost should find a play that matches its talents.