Men on the Verge of a His-panic Breakdown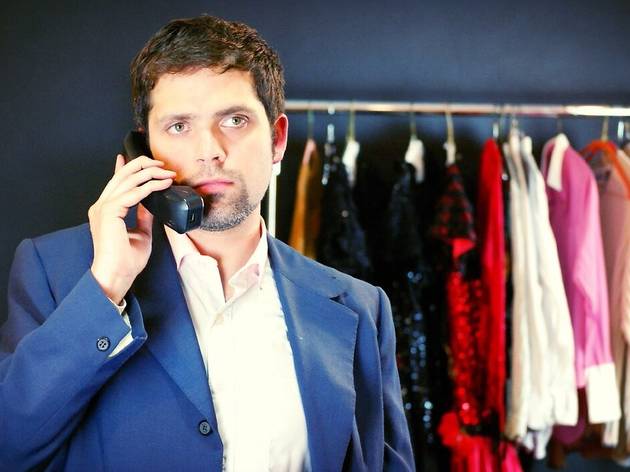 A one-man show about gay Latinos in the early '90s is a very funny look at immigrants and outsiders
Director Sandra Marquez opens this new production of Guillermo Reyes's 1994 comedy Men on the Verge of a His-panic Breakdown with a deceptively nostalgic montage of mid-'90s ephemera: Nirvana, Mandela, denim, Demi, Basic Instinct, Tupac. The set, by Patrick Iven, channels In Living Color. But then footage from the 1992 Rodney King riots begins to play and, if it weren't for those L.A. palm trees, you'd think it was Baltimore. You'd think it was now.
Into those riots steps Federico, a young gay Latino immigrant who has come to Los Angeles in search of good times and a good life; he thinks the rioters are extras in a new Lethal Weapon movie. Federico shows twice more, each time with a weirder story but a stronger resolve. Even when his brand new dildo melts in an arsonist's fire, he is not to be deterred.
Federico is the first of many characters that the audience meets in the course of the show's dozen-plus monologues; all of them are gay and Latino and played with deft singularity by Nelson Rodriguez. There are a recently jilted houseboy, a Hispanic actor passing as a WASP, the world's worst (and most sexually repressed) roommate, a Nixon-loving ESL teacher and a twice-exiled Cuban restaurateur, among others.
The play has aged well—the characters are often fey and flamboyant, but they aren't stereotypes. Moments of pathos shine through. The show is slight—it thinks it has more to say than it actually does, but it's very funny. And sadly, still quite timely.
Pride Films & Plays at Apollo Studio Theater. By Guillermo Reyes. Directed by Sandra Marquez. With Nelson Rodriguez. 1hr 20mins; no intermission.