Merrily We Roll Along at The Music Theatre Company | Theater review
This valiant effort by director Jessica Redish and a ridiculously talented young ensemble is worth seeing, but Sondheim's 1981 show remains as problematic as ever.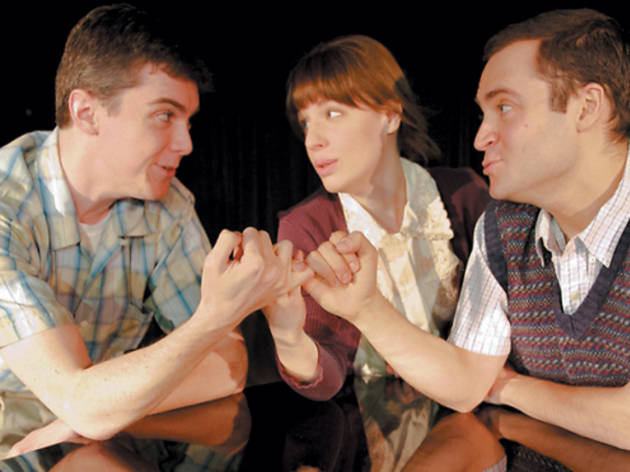 This 1981 turn by the Company team of Furth and Sondheim was a notorious flop in its Broadway debut, but it's maintained a loyal cult following over the years as the composer and the now-deceased book writer revised it again and again. It's not hard to see the appeal: The score contains some of Sondheim's loveliest work in numbers like "Not a Day Goes By" and "Old Friends," and the unconventional structure—which, like the Kaufman and Hart play it's based on, follows a group of creatives backward from their unhappy end to their hopeful beginning—comes with an on-paper allure.
But after all the rewrites, the show's central problem remains its central character, composer Franklin Shepard, who starts out thoroughly unlikable at 40 and doesn't gain much charm as he regresses in age. We're presumably meant to sympathize with him as we witness the compromises and betrayals—of his pals and his own ideals—that led him to the hollow, unhappy success he's achieved by the play's opening scene, but it's simply not there in the material; Frank remains a cipher for far too much of the evening. Zimmerman does a very admirable job of trying to fill in the blanks, and Schmuckler and Mueller fare better as the more sharply drawn pals Frank leaves behind. Redish's accomplished staging and an insanely talented young cast do quite well by this inherently problematic show—Sondheim's score, at least, is terrifically sung.