Michael Cera, Kieran Culkin and Tavi Gevinson: Interview
The cast of This Is Our Youth on Kenneth Lonergan's play, the heinousness of auditioning and the universal truths of growing up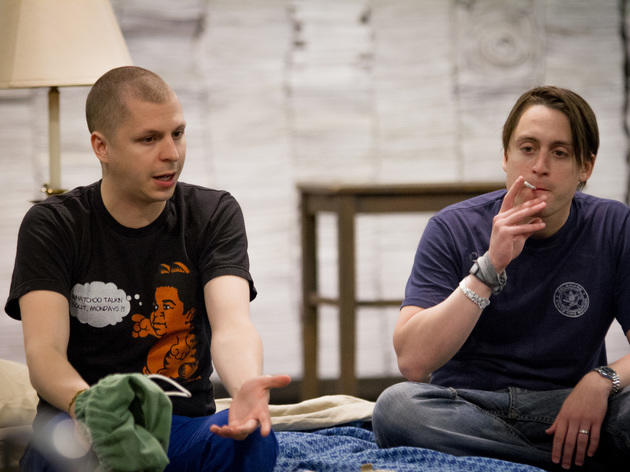 1/6
Photograph: Joel Moorman
Michael Cera and Kieran Culkin in rehearsal for This Is Our Youth at Steppenwolf Theatre Company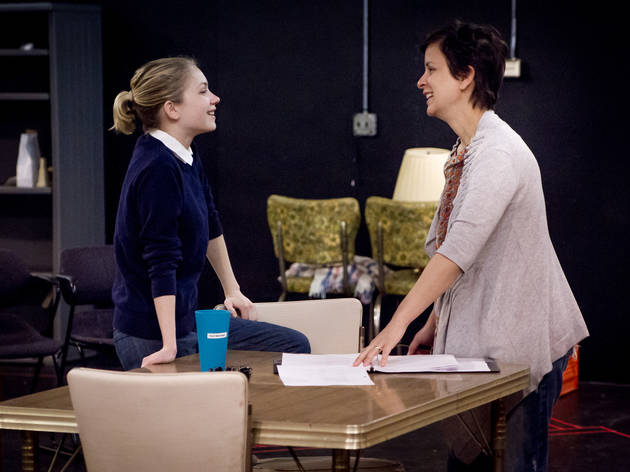 2/6
Photograph: Joel Moorman
Tavi Gevinson and director Anna D. Shapiro in rehearsal for This Is Our Youth at Steppenwolf Theatre Company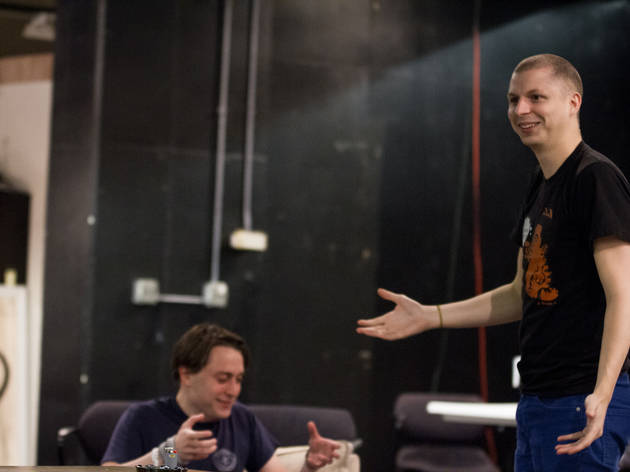 3/6
Photograph: Joel Moorman
Kieran Culkin and Michael Cera in rehearsal for This Is Our Youth at Steppenwolf Theatre Company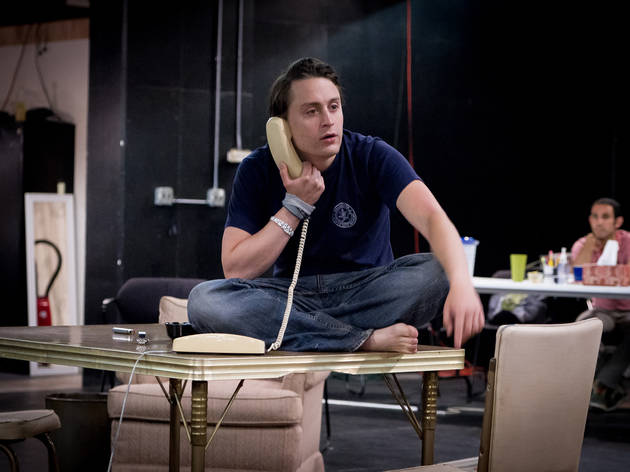 4/6
Photograph: Joel Moorman
Kieran Culkin in rehearsal for This Is Our Youth at Steppenwolf Theatre Company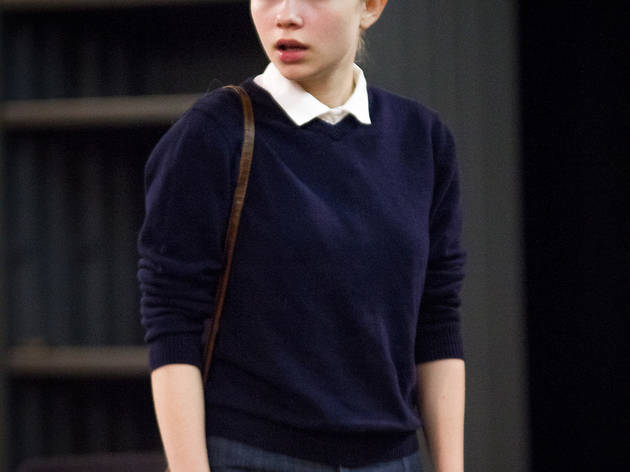 5/6
Photograph: Joel Moorman
Tavi Gevinson in rehearsal for This Is Our Youth at Steppenwolf Theatre Company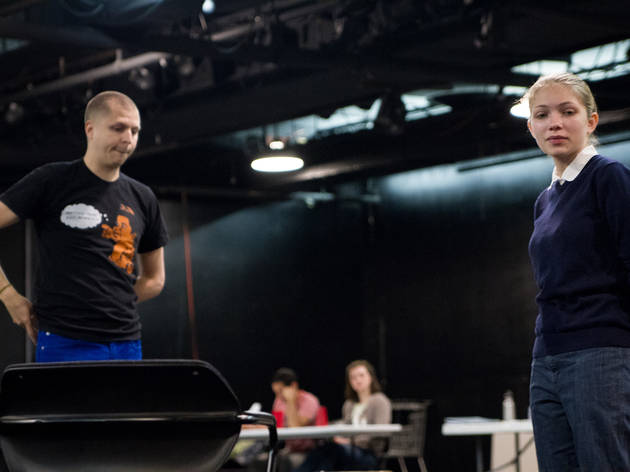 6/6
Photograph: Joel Moorman
Michael Cera and Tavi Gevinson in rehearsal for This Is Our Youth at Steppenwolf Theatre Company
That the actors Michael Cera and Kieran Culkin were interested in bringing This Is Our Youth, Kenneth Lonergan's 1996 play about disaffected rich kids in early '80s Manhattan, to Broadway for the first time has been no secret. Culkin, who appeared in the play's London production several years ago, introduced Cera to the script when the two were making Scott Pilgrim vs. the World; Cera told Ain't It Cool News in an interview for that 2010 film that they hoped to do it in New York, and in 2012, they mounted a brief run in Sydney, Australia.

What was a surprise when the Broadway production was finally made official in April was the route it would take: via Chicago, and not as a commercial tryout but as a surprise addition to the Steppenwolf calendar, with ensemble member Anna D. Shapiro staging the show in the company's upstairs theater for a summer run before moving it to New York this fall.

"We've been trying to get this going for like five years now, in any way, shape, or form," Cera recalls. Culkin amends the statement: "Even when I handed you the play, I'd been trying to do it for a couple years before that," he says. "It's been like eight years for me, and then making calls here and there."

The two are joined in the cast by Tavi Gevinson, the 18-year-old Oak Park native who's already well known in some circles as the founder and editor of the online magazine Rookie. "My relationship with this production is much less…" she says, before Culkin teasingly interrupts: "You haven't been working on it for like eight years?"

"No, only in my heart," she retorts.

The three are two weeks into rehearsals in Chicago when they gather for an interview in Steppenwolf's second-floor lobby on a sunny morning last week. Culkin, who's 31 but still reads much younger, and Cera, who turns 26 this week, have the casual rapport of longtime friends, trading references to YouTube videos and gabbing about the greatness of The Larry Sanders Show, the HBO series on which Cera's Arrested Development costar Jeffrey Tambor worked in the '90s.

Cera and Culkin joke freely about their long road to getting This Is Our Youth to reality. "It kind of kept coming together and falling apart, and it seemed like we might never do it," Cera says. "But this last time around, when we got the call that Scott [Rudin, the producer] wanted to do it, because he facilitated the whole thing and brought it together—I was again like, Okay, I'll really believe it when we're there doing it."

"I still don't believe it, something's gonna happen," Culkin says. "You're riding your bike to work, and I'm like, don't break your fucking leg. Something's gotta give here."

Cera plays Warren, an aimless young man who's stolen a great deal of cash from his father. Culkin is Dennis, Warren's slightly older, self-aggrandizing friend who deals drugs out of the apartment he says his parents pay for so they won't have to deal with him.

Gevinson plays Jessica, the object of Warren's crush; at the heart of the play is a long, funny conversation between the two about the way we develop adult personalities. That's what Gevinson sees as the timeless thread running from the play's 1982 setting through to the adolescent anxieties Rookie's readers wrestle with.

"It's like, my favorite movies and TV shows and books about adolescence or being a young adult could be decades old, but it's the same stuff that you deal with even if people, you know, kids nowadays have iPhones, " she says. "Jessica is pretty, she's going to college, she's in a way on a trajectory that's more clear than the other guys, but she's maybe socially a little more stunted. I feel like her methods of dealing with that are the same as mine, the same as my friends, probably the same stuff my mom did of just setting up these belief systems and clinging to them. I think that definitely is just constant in all young people."

"I didn't experience that, personally. I feel like if I had a belief system it would last for three days and then be completely dissolved under a shower of self-loathing," Cera replies. "But I guess to me the thing that really comes through in the play that I feel is universally relatable is, just this moment when you start to see yourself and your friends and your whole world kind of differently because you're growing up, you know? You actually take a step where you can't look at someone the same way, and you kind of see things through a new lens very suddenly, like overnight, and it's hard to go back from."

"It's like that moment when whatever age you had it, but everyone has it, when they just sort of see their parents or an adult like, oh, you're just a person that used to be…you're just a dude," Culkin adds. "It's that moment."

Gevinson, who won good notices last year for her role in Nicole Holofcener's film Enough Said, had to go through several rounds of auditions for Jessica. "Which is a process basically designed to make you have lower self-esteem," she says wryly. "And then I was gonna write [Shapiro] a letter, because I've done that before when I've wanted a part because I have to know that I did everything I could."

"That's awesome," Culkin says approvingly.

"Sometimes I think that's a really good thing to do. To put yourself forward like that," Cera adds.

"Oh, yeah, it's the only way I know how," Gevinson says. "It's not over till it's over."

Shapiro is staging the show two ways: At Steppenwolf, the Upstairs Theatre is configured as an alley stage, with the audience on both sides; in New York, it'll be reblocked for the Cort Theatre's proscenium layout.
"This is only my second experience in theater ever," Cera says (the first having been the Sydney production). "So I don't have a lot to compare to, but this has been a completely different experience because we're doing it in the round, more or less. It's helpful, I find, in getting lost in it. Because you really can't… You have to forget the audience, or else you'll be aware of them at all times."

"She's very cerebral," Culkin says of Shapiro. "I always thought like, if we talk about it too much that might—I'm gonna get in my head too much, we're gonna over-think something. But she's smart, she knows what she's doing."

"She's relaxed," Cera agrees. "Because she knows she's got her teeth in it. Nothing's gonna fly by that she's not sure of or doesn't wanna talk through."

"My dad was like, 'Isn't it harder to play to all these different sides?'" Gevinson says. "And I was like, 'No, it's easy because you just do it and everyone accepts that they get different sight lines at different times.'"

"I have a tendency in any play I've done, if there's uncomfortable moments, which there always will be, I hide a little bit," Culkin says. "So this is gonna be the first time where I just can't fucking hide."

"Nowhere to hide!" Cera crows, laughing.

"There's the bathroom," Gevinson offers.

"There is the bathroom," Culkin allows, smirking. "But I can't do all my lines from the toilet."

This Is Our Youth begins previews at Steppenwolf June 10 and opens June 18, running through July 27. Previews at Broadway's Cort Theatre are set to begin August 18 for a limited run ending January 4.