Miss Bennet: Christmas at Pemberley
1/8
Photograph: Charles Osgood
Miss Bennet: Christmas at Pemberley
2/8
Photograph: Charles Osgood
Miss Bennet: Christmas at Pemberley
3/8
Photograph: Charles Osgood
Miss Bennet: Christmas at Pemberley
4/8
Photograph: Charles Osgood
Miss Bennet: Christmas at Pemberley
5/8
Photograph: Charles Osgood
Miss Bennet: Christmas at Pemberley
6/8
Photograph: Charles Osgood
Miss Bennet: Christmas at Pemberley
7/8
Photograph: Charles Osgood
Miss Bennet: Christmas at Pemberley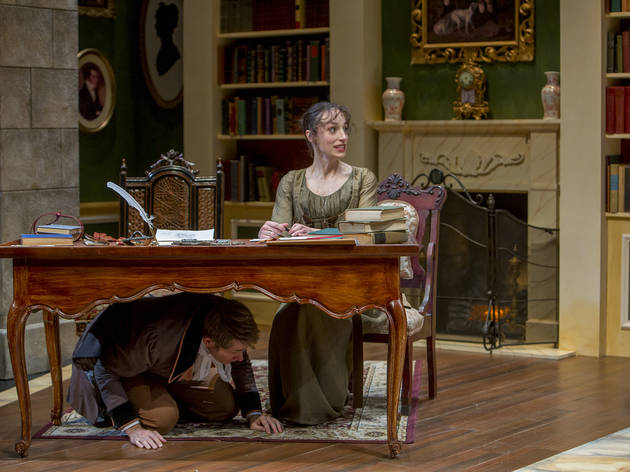 8/8
Photograph: Charles Osgood
Miss Bennet: Christmas at Pemberley
Middle sister Mary Bennet gets a Christmas wish in a charming sequel to Jane Austen.
You don't need to be a diehard Jane Austen–head to enjoy the world premiere of Miss Bennet: Christmas at Pemberley. A "sequel" to Austen's inescapably famous novel Pride and Prejudice, the play mostly stands alone as an enjoyable period farce. And while there are some moments that will certainly resonate with fans of the original book, it might actually appeal more to casual fans than to diehards. Austen's drier, wittier tone is replaced by a broader, sillier take on the Bennet sisters. It's Pride and Prejudice as network sitcom.
Playwrights Lauren Gunderson and Margot Melcon set their story approximately two years after the events of the novel. Elizabeth Bennet, now Elizabeth Darcy (Samantha Beach), and her husband, Fitzwilliam Darcy (Alex Goodrich), are hosting the Bennet family for Christmas, when they receive a last-minute surprise.
It turns out the detested Lady Catherine De Bourgh has died, and her estate, Rosings, has passed into the hands of a distant cousin, Arthur de Bourgh (Erik Hellman). As Arthur was an old school chum of Mr. Darcy's, he's taken it upon himself to invite him over for Christmas. When he arrives, it becomes obvious almost immediately that he and Elizabeth's book-loving sister Mary (Emily Berman) are a perfect match. Period-appropriate high jinks ensue.
Berman and Hellman make for a winning pair of romantic comedy leads, with Hellman especially delivering one of the most well-drawn, funniest comedic performances of the year. His physicality and delivery make any scene he's not in a mild disappointment. It might help too that Arthur is an original creation. While the Bennets and Bingleys and Darcys all have Austen's original, less farcical versions waiting in the wings, Mr. De Bourgh has nothing of the sort. He's simply a single man, in possession of a good fortune, in want of Mary Bennet as a wife.
Directed by Jessica Thebus with the kind of clockwork precision necessary for a successful farce, Miss Bennet: Christmas at Pemberley is an amusing holiday trifle—nothing more, but certainly nothing less. And in times like these, "nothing less" is more than enough reason to see it.
Northlight Theatre. By Lauren Gunderson and Margot Melcon. Directed by Jessica Thebus. With ensemble cast. Running time: 2hrs; one intermission.