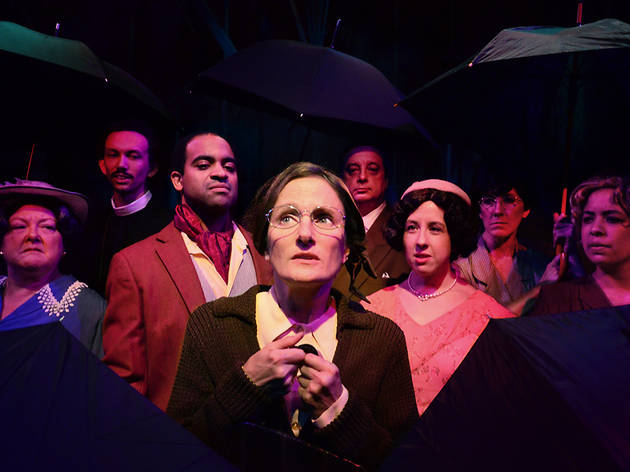 A charming but familiar tale of small town scandal is part tired, part timeless.
It doesn't take much to disrupt the status quo in a little town where a resident buying a new hat is noteworthy. So the commotion brought about by the titular tome in Lifeline Theatre's Miss Buncle's Book is predictably life-altering for the people of the stuffy 1930s English village in which its action unfolds. That village and the production as a whole are brimming with provincial charm. But as is the case with so many stories about close-knit communities resistant to change, the same quaintness and universality that make this show so likeable also steer it into welll-trod territory.
As Miss Buncle, the unassuming heroine whose best-selling, anonymous account of her neighbors' secrets doesn't go over well with said subjects, Jenifer Tyler possesses the superficial meekness and underlying strength called for by any good transformation story and brings a quiet energy and build to her role, alongside fellow standouts Peter Greenberg, Tiffany Oglesby and Kristina Loy.
Other townspeople, meanwhile, push their busybody archetypes closer to caricature. It's an easy line to cross in Christina Calvit's straightforward adaptation of D.E. Stevenson's 1934 novel: The horrified housewives and meddling moral authorities leveling their wrath at someone or something promoting different ideas and self-reflection are dramatic standards audiences will recognize from everything from The Music Man to The Help.
Which is not to say the well-worn groove the story follows isn't a comfortable one. With humor and mystery, romance and relatability, it would be hard not to call Miss Buncle a crowd-pleaser. Like the scones fanned across sterling tea service in the first act, the production may be unremarkable, but it's undeniably sweet and ultimately satisfying.
Lifeline Theatre. By Christina Calvit. Directed by Dorothy Milne. With ensemble cast. Running time: 2hrs; one intermission.