Moment at Steep Theatre | Theater review
Director Jonathan Berry delivers an engrossing U.S. premiere of Deirdre Kinahan's Irish family drama.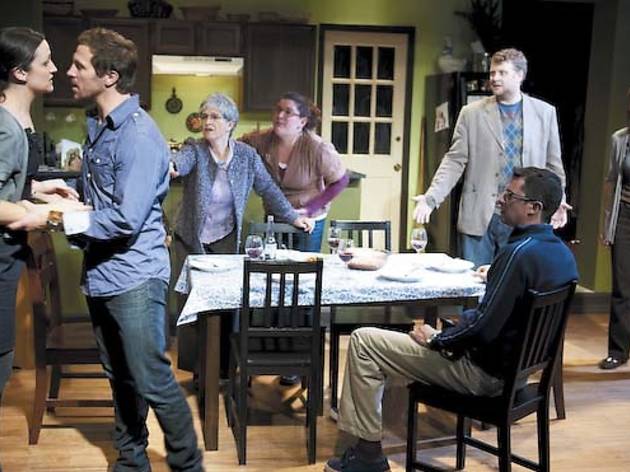 It doesn't take long to sense there's a dark open secret at the heart of Irish playwright Deirdre Kinahan's 2011 family drama. It's evident in the way adult daughter Niamh (Cynthia Marker) bristles when told by her pill-popping mother, Teresa (Maggie Cain), that her brother Nial (Josh Odor) is coming for a visit, and in the way Niamh's younger sister Ciara (Julia Siple) and her husband, Dave (James Allen), tense up at Niamh's presence. But the nature of the apparent bad blood between Niamh and Nial, revealed in a striking emotional explosion at the end of Kinahan's first act, is wholly unexpected.
That instant derives its gut-punch power in equal measures from Kinahan's carefully constructed plotting, which masterfully metes out information about the Lynch family's past and its present state, and from Jonathan Berry's precision-calibrated staging. Like last year's Festen, also at Steep, Berry's Moment delivers searingly honest family relationships. The reveal, and its Act II aftermath, rely on our recognizing the long, deep-seated history shared by the siblings, as well as the abject discomfort of being an outsider, like Nial's new wife (Carey Lee Burton) or Niamh's eager suitor (Alex Gillmor), when such intimate bruises are exposed. Kinahan is examining when—and even if—a family can regain balance after a major trauma. Berry sets the tone and pacing for maximum impact, and his terrific ensemble follows his lead, making this a Moment to remember.