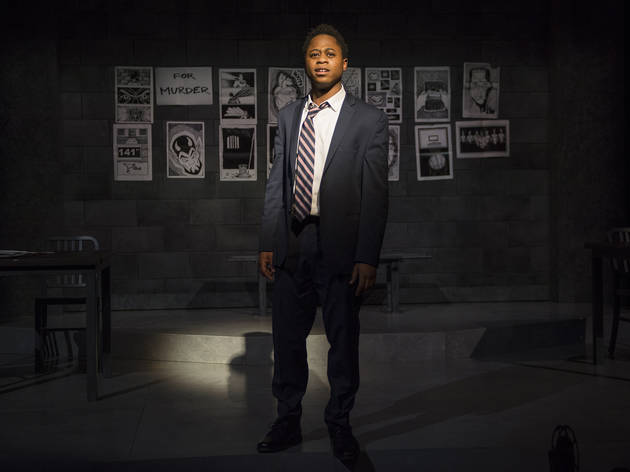 1/12
Photograph: Michael Brosilow
Monster at Steppenwolf for Young Adults
2/12
Photograph: Michael Brosilow
Monster at Steppenwolf for Young Adults
3/12
Photograph: Michael Brosilow
Monster at Steppenwolf for Young Adults
4/12
Photograph: Michael Brosilow
Monster at Steppenwolf for Young Adults
5/12
Photograph: Michael Brosilow
Monster at Steppenwolf for Young Adults
6/12
Photograph: Michael Brosilow
Monster at Steppenwolf for Young Adults
7/12
Photograph: Michael Brosilow
Monster at Steppenwolf for Young Adults
8/12
Photograph: Michael Brosilow
Monster at Steppenwolf for Young Adults
9/12
Photograph: Michael Brosilow
Monster at Steppenwolf for Young Adults
10/12
Photograph: Michael Brosilow
Monster at Steppenwolf for Young Adults
11/12
Photograph: Michael Brosilow
Monster at Steppenwolf for Young Adults
12/12
Photograph: Michael Brosilow
Monster at Steppenwolf for Young Adults
Powerful performances temper mixed metaphors in Steppenwolf's adaptation of Walter Dean Myers's YA novel.
The question at the heart of this stirring show, part of Steppenwolf's Young Adults programming, is one whose simplicity is matched only by its sheer vastness: What makes someone the person they are? As 16-year-old Steve Harmon (Daniel Kyri) sits and awaits a jury's verdict on his role in a deadly robbery, he peers back through his life to examine who he is, what he has done, and how others perceive him.
Adapted by Aaron Carter from the classic young adult novel of the same name by Walter Dean Myers, Monster is a highly theatrical work but one that speaks in the language of cinema. As an aspiring filmmaker, Steve tells his story like it's a movie—one that for now at least exists only in his mind. He zooms in on conversations between himself and James King, a 23-year-old from their Harlem neighborhood who offers him a place on the crew. He pans across the cell block he shares with a group of hardened inmates, and across the courtroom where his attorney (Cheryl Graeff) and the A.D.A. (Alana Arenas) try to build competing narratives of the robbery. He freezes on the face of his father (Kenn E. Head), who wonders how the little boy he used to place in his crib at night grew up to be involved in such a horrible thing.
These cinematic touches sometimes butt up against director Hallie Gordon's anti-naturalistic staging, with stylized movement, actors sitting and watching the action, double-casting roles and other free-flowing elements directly contradicting Steve's telling his story like it's a movie. It's odd that a play so reliant on filmic vocabulary uses no actual video or projections at all. Steve is obsessed with image: what he can do with it as a director and how little control he possesses over it as a young black man in front of a jury. He expresses himself through film, but the play expresses itself in the language of theater. These competing languages overlap, drowning out some of the power that Steve's voice could otherwise carry. The language of the staging is at odds with the story itself.
But that is not to say that his voice is lost entirely. For one thing, Kyri gives a finely-tuned, vulnerable performance—more than holding his own against more seasoned hands like Arenas and Head, both of whom are great as usual. Smallwood, too, is proving a master of hidden pain and anger masked behind an otherwise impassive face. (His work last season in Charm at Northlight Theatre and The Grapes of Wrath at the Gift likely remains seared in audiences' memories.) These performances tell a powerful story, one that young audiences should instantly recognize and connect with. They are light passing through the celluloid, the thing that lets us actually see—and see with fiercest clarity.
Steppenwolf Theatre. By Aaron Carter. Directed by Hallie Gordon. With ensemble cast. Running time: 1hr 30mins; no intermission.