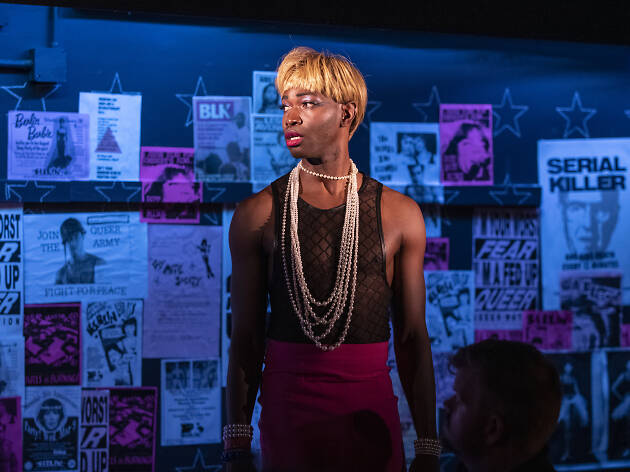 Time Out says
Theater review by Alex Huntsberger
Tarell Alvin McCraney and Tina Landau's Ms. Blakk for President has been one of the most anticipated shows of the season, and it arrives at Steppenwolf with the force of a brick through a window. Co-written by the pair and directed by Landau, this raucous historical drama stars McCraney as Ms. Joan Jett Blakk, a real-life Chicago drag queen and queer activist who mounted a 1992 campaign for President of the United States, with the goal of raising awareness about AIDS at a time when the disease was killing tens of thousands of Americans each year. (Her motto? "Lick Bush in '92.")
Mounted on a zig-zagging runway surrounded by "party style" cabaret seating, Ms. Blakk blends an exhilarating range of styles. Visions of Marilyn Monroe and David Bowie (both played by the fabulous Sawyer Smith) grind up against Biblical prophecies, song-and-dance numbers and footage from the 1992 Democratic National Convention (displayed on chunky 1990s TV monitors, a wonderful touch). In the center of it all is McCraney's intensely charismatic and deeply felt performance as both the brash Blakk and her more retiring creator, Terence Alan Smith. McCraney, who won a screenplay Oscar for Moonlight, is one of the finest playwrights we have, but if he wanted to give acting a go full-time, I think he'd have a shot.
David Zinn's gorgeous set design turns Steppenwolf's Upstairs Theatre into a turn-of-the-90s dance club, whose walls are plastered with posters for ACT UP and Queer Nation Chicago. Every inch of it looks great under Heather Gilbert's lush, colorful lighting, as do Toni-Leslie James's costumes. Ms. Blakk for President's nightclub vibe starts from the moment audience members enter; drag queens galore perform in the upstairs lobby as members of the show's supporting cast (including Patrick Andrews, Molly Brennan, Daniel Kyri and Jon Hudson Odom) party within the theater itself.
This queering of traditional theatrical boundaries—between audience and performer, stage and stalls—isn't new, but Landau and her performers commit to it with irresistible glee. The show itself, which follows Blakk as she goes from crashing local fundraisers to trying to pull the same stunt at Bill Clinton's coronation at Madison Square Garden, has much the same effect: Moments that might have fallen flat leave you swooning instead. Most historians may consider Blakk's campaign a footnote at best, but Ms. Blakk for President refuses to let her be consigned to the margins. The play stands astride history in six-inch heels, yelling at it to hurry the hell up.
Steppenwolf Theatre Company. Written by Tarell Alvin McCraney and Tina Landau. Directed by Landau. With McCraney, Patrick Andrews, Sawyer Smith, Daniel Kyri, Molly Brennan, Jon Hudson Odom. Running time: 1hr 40mins. No intermission.
Details
Users say