Murder for Two at Chicago Shakespeare Theater | Theater review
This infectious new musical murder mystery comedy could get belly laughs from a corpse.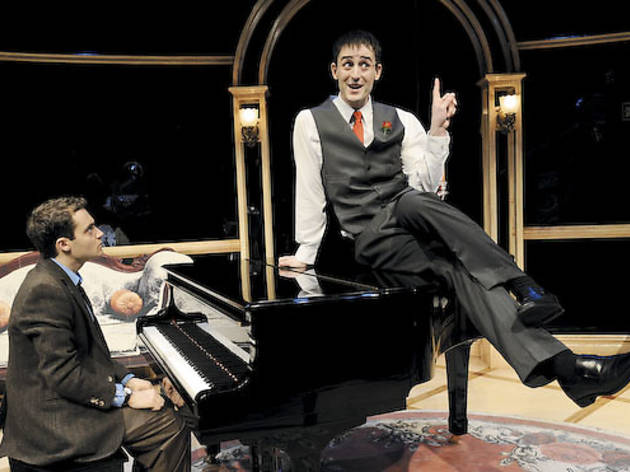 The kind of droll, light, winking evening at the theater that's often backhandedly tagged "an entertainment," Kinosian and Blair's clever new musical is very entertaining indeed. An openhearted spoof of Agatha Christie–style whodunits, Murder for Two concerns the small-town murder of a famous mystery author at his own surprise party. A young cop (Schmuckler), assigned to secure the crime scene until the detective arrives, thinks this could be his opportunity to make detective himself, but the mansion full of blasé suspects—all played by Kinosian—aren't going to make his job easy.
This is, for the most part, pretty cornball material. Though Kinosian and Blair are young guys, what they've written is essentially one big theatrical Dad Joke, with some metatheatrical high jinks as garnish (many related to the actors' performing piano duties for each other). But as staged by Bell, working right in his wheelhouse, and expertly performed by Kinosian and Schmuckler, it's irresistibly infectious, old-fashioned fun. Kinosian, an appealing blank slate when he's in neutral, bounds around the stage adopting distinct voices and physicalities to bring to life nine characters, while Schmuckler puts his natural endearing-nebbish persona to terrific use. Careful not to overstay its welcome, Murder should slay even the most jaded party guests.