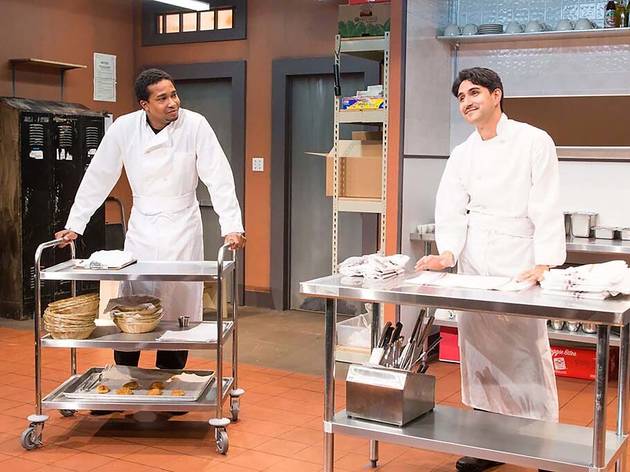 1/4
Cameron Knight and Victor Marana in My Mañana Comes at Teatro Vista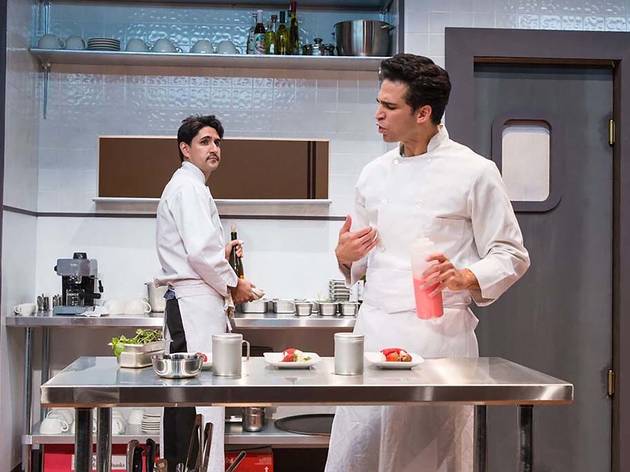 2/4
Photograph: Joel Maisonet
Victor Marana and Dennis Garcia in My Mañana Comes at Teatro Vista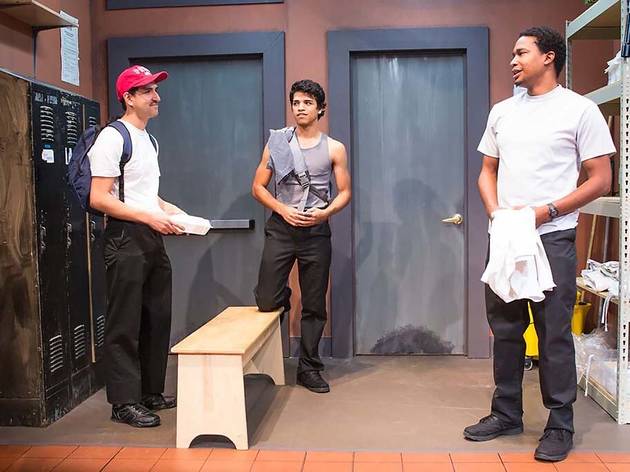 3/4
Victor Marana, Jonathan Nieves and Cameron Knight in My Mañana Comes at Teatro Vista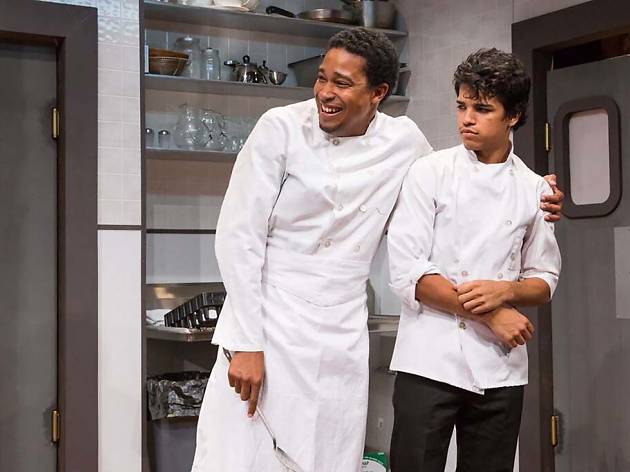 4/4
Cameron Knight and Jonathan Nieves in My Mañana Comes at Teatro Vista
The characters in Teatro Vista's Chicago premiere are praying for a packed house, and you should oblige them.
For the four busboys in My Mañana Comes, a slow workday represents a kind of death. At one point or another they each take a moment to gaze out into the empty dining room, where they see only the uncertain future that accompanies a dead-end job with a schizophrenic schedule and a measly shift wage. That uncertainty is even more palpable for the stoic dreamer Jorge (Víctor Maraña) and the youthful, anxious Pepe (Johnathan Nieves), who, as undocumented workers, are always just a misstep away from losing a thin, already tenuous slice of the American dream.
Staged as a series of vignettes in the prep kitchen of a posh, unnamed New York restaurant, My Mañana Comes is an affecting, funny, subtly political glimpse into the lives of those preparing and serving the food we eat. We watch as they fold napkins, slice lemons and shuffle plates out of the kitchen and into a world that is, for them, unknowable.
Rounding out this excellent cast are the temperamental Peter (Cameron Knight), who's so distracted by the day-to-day struggle of providing for his daughter that he doesn't realize he's sold himself short, and the wise-cracking Whalid (Dennis García), who really just wants a job with an important-sounding acronym. The play is at its best when all four characters are on stage together, moving around one another in a sort of kitchen-prep ballet as they crack wise and share their dreams and disappointments.
Written by Elizabeth Irwin, Mañana spends a good bulk of its running time preparing its ingredients, and there's a laid-back vibe to early scenes that, at times, borders on aimlessness. But things really start cooking in the last few scenes, when a decision by a never-seen but always looming manager backs everyone into a different corner. It's here that you realize that that high-energy, fast-talking chopping and slicing wasn't just for show. Irwin and director Sandra Márquez were preparing a full-course meal.
The conclusion feels as inevitable as it is abrupt, and when the lights go down you can't help but feel that someone skipped out on the check. But then later, when you're sitting at the bar beside that little bowl of perfectly sliced lemons, you realize that My Mañana Comes is still with you.
Teatro Vista at Victory Gardens Biograph Theater. By Elizabeth Irwin. Directed by Sandra Marquez. With Dennis García, Cameron Knight, Víctor Maraña, Johnathan Nieves. Running time: 1hr 30mins; no intermission.