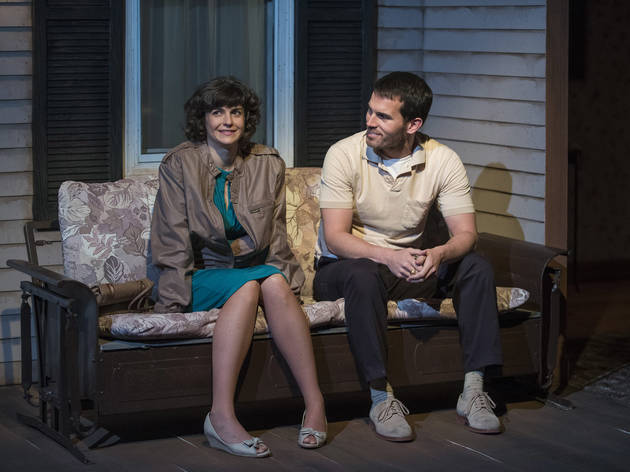 1/7
Photograph: Michael Brosilow
2/7
Photograph: Michael Brosilow
3/7
Photograph: Michael Brosilow
4/7
Photograph: Michael Brosilow
5/7
Photograph: Michael Brosilow
6/7
Photograph: Michael Brosilow
7/7
Photograph: Michael Brosilow
Melissa Ross's melancholy piece is one for those who wonder if it's too late to go back to the roads not taken.
Instead of peals of laughter or wails of despair, the primary noise Melissa Ross's Nice Girl inspires is an uncomfortable shifting in the seat, paired with a familiar, melancholy sigh. It's the only way to properly respond to a play that makes you ponder your own regrets, your roads not taken, the fact that your adult life is probably very little like your younger self imagined it.
Those sensations, along with the show's quiet, straightforward realism, make the show a poor fit for audiences in their teens or college years or early twenties. They haven't failed quite enough yet for the show to truly hit home. They'll have to wait 15 or 20 years for a revival to come along and elbow them lightly in the gut. As for the stylistic choice: Traditional realism may not always be the correct choice, and it's rarely the most interesting one, but it fits here. It's the right choice for this story.
That's not to say that the show, directed at Raven Theatre by Lauren Shouse, isn't charming, or funny, or an overall enjoyable night out. It's all of those things, too. Nice Girl follows a week or so in the life of a single, 37-year-old office worker named Josephine (the wonderful Lucy Carapetyan). The place is the Boston suburbs, the year is 1984, and her existence is a kind of Reaganite-meets-Bartleby purgatory. Having long ago lost a scholarship to Radcliffe after her father got sick and died, Josephine has settled for a job at an accounting firm and spent her entire adult life living with her slightly caustic and very hypochondriac mother, Francine (Lynne Baker).
The play follows Josephine as she makes a new friend at work, the brassy, wounded Sherry (Stella Martin in an ebullient performance), and starts seeing an ex-classmate, Donny (Benjamin Sprunger), who works as a butcher at his uncle's grocery store. He's separated and with kids, but seems like an all right type. In the person of Sprunger, he's certainly got looks and charisma to spare.
This is reflected in the set, designed by Lauren Nigri: a traditionally appointed and detailed '80s-era living room, kitchen, dining room, and front porch. But this set also serves as a number of other locations, including the butcher's counter, a break room at work, even a club where Josephine drags Donny on a weeknight, much to her mother's chagrin. Even when she's out of the house, she's never really out. It's all around her. Josephine is trapped.
After a successful half-date (he takes her home from the aforementioned club), Donny and Josephine decide to go to their high school reunion together—the first step toward a life of independence and honest-to-god forward momentum that has long eluded her.
But, like everything, it doesn't turn out quite like she expects. The same might not be true for the audience, as the show's big twist is visible from half a mile down the interstate. But the journey she undertakes and the distance she's come are not undone. It's a story that ends ambiguously but leaning towards hope.
The biggest knock against Shouse's production is that the actors all read a bit too young for their roles. This is not exactly uncommon in storefront theatre, so it's something that audiences and critics alike might usually let slide, but that can't be done here. The sad, slow process of aging is too integral to the material and to the effect it is trying to create. They all just seem a bit too young to be this sad about being "old." But then, is anyone ever really the age they wish to be?
Raven Theatre. By Melissa Ross. Directed by Lauren Shouse. With Lucy Carapetyan, Lynne Baker, Stella Martin, Benjamin Sprunger. Running time: 2hrs; one intermission.