Nocturne
EP Theater (see Fringe & storefront). By Bradley Rand Smith. Dir. Danny Fresh. With ensemble cast.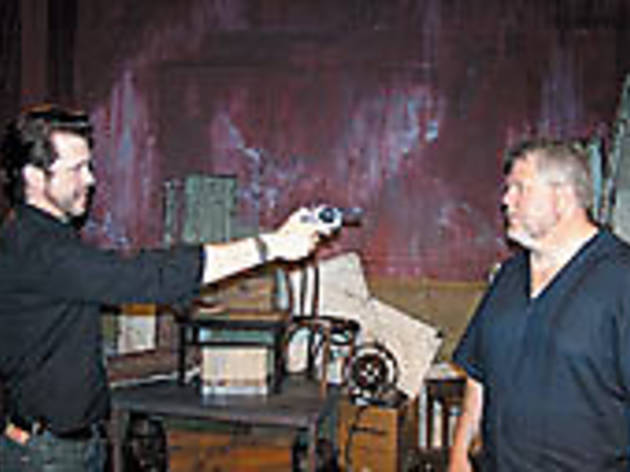 We shouldn't like a play that bills itself as "a meditation on the nature of evil" and includes a rather long argument about morality (is it black and white or—good heavens—grayer than that?). It's even more troubling when said argument takes place between a successful journalist and a college professor (people who should really know better). Such is the case in Bradley Rand Smith's new play. But despite such missteps, in a generally engrossing drama that strays into talky hyperbole, EP actually pulls this one off.
That journalist, Ben, is the son of an award-winning photographer and a famous pianist, who both recently passed away. Both also lived through and thrived artistically on the tragedies of WWII. In an odd way, Ben seems to be looking for his own tragedy and subsequent artistic breakthrough and decides to interview a mercenary-in-hiding who may have been involved in planning the bombing that killed his mother.
Nocturne is at its most convincing when it embraces the complexity of his struggle. Characters break into sporadic monologues, speaking directly to the audience as if they were Ben, while he watches in the background. The overlapping dialogues highlight how chaotic and murky memory can be. Appropriate choices, yes, but it can often feel equally messy. Thankfully, this particularly solid cast (especially Dan Flannery, who gives a fantastically broad performance—alternately self-deprecating, fragile and dignified) keeps most of it in balance.—Tim Lowery