Northwest Highway at the Gift Theatre | Theater review
William Nedved's new work is a striking, affecting portrait of the ties that bind—and chafe—in Jefferson Park.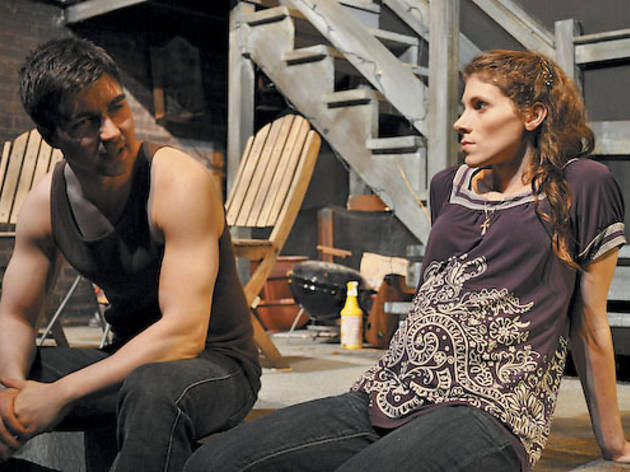 Ties of place can be as strong—and as encumbering—as ties of blood, suggests Nedved's affecting new work. Set in a backyard just blocks from the Gift's Jefferson Park home, Northwest Highway concerns a species of Chicagoans for whom blocks away might as well be worlds. John Patrick Moore (Harris) is a thirtyish beat cop living in the same single-family home where his father grew up and suffering from a lifetime's worth of indecision—he's already disposed of his first career and his first wife, and now he's wishy-washy about his problems with his shady partner Terry (Farruggio), his girlfriend Rayna (Mair) and his childhood best friend Colin (the terrifically acerbic Franken). The only solid thing in John's life seems to be the basement full of family detritus anchoring him to the spot, but when Rayna announces she's pregnant, it looks as if John might finally make a move.
Osborne's staging isn't always as clean as it could be, but he draws some bracing performances out of his well-matched actors. Mair is heartbreakingly honest as a woman at the mercy of her boyfriend's chronic uncertainty, but Harris somehow finds sympathy in John's reeling panic. Nedved plants a couple of Chekhovian guns early on in his script, but when they finally go off, the effects aren't what you'd expect. Moreover, his characters are as sharply observed as scenic designer Adam Lucas Veness's cluttered back porch.