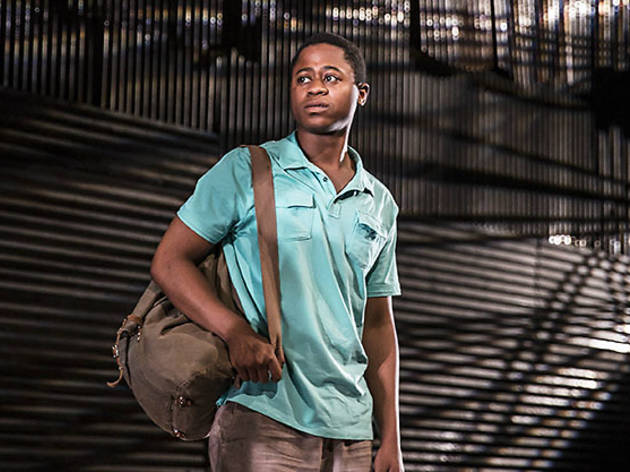 1/12
Photograph: Liz Lauren
Objects in the Mirror at Goodman Theatre
2/12
Photograph: Liz Lauren
Objects in the Mirror at Goodman Theatre
3/12
Photograph: Liz Lauren
Objects in the Mirror at Goodman Theatre
4/12
Photograph: Liz Lauren
Objects in the Mirror at Goodman Theatre
5/12
Photograph: Liz Lauren
Objects in the Mirror at Goodman Theatre
6/12
Photograph: Liz Lauren
Objects in the Mirror at Goodman Theatre
7/12
Photograph: Liz Lauren
Objects in the Mirror at Goodman Theatre
8/12
Photograph: Liz Lauren
Objects in the Mirror at Goodman Theatre
9/12
Photograph: Liz Lauren
Objects in the Mirror at Goodman Theatre
10/12
Photograph: Liz Lauren
Objects in the Mirror at Goodman Theatre
11/12
Photograph: Liz Lauren
Objects in the Mirror at Goodman Theatre
12/12
Photograph: Liz Lauren
Objects in the Mirror at Goodman Theatre
A Liberian refugee finds a new home in Australia but his past trails him in Charles Smith's new play, inspired by true events.
The protagonist of Charles Smith's new play, Shedrick Yarkpai, is inspired by a real-life former refugee from Liberia now living in Adelaide, Australia. The two met when Yarkpai, now a stage actor, was performing in one of Smith's plays. But don't expect to see Yarkpai's entree into the arts in Smith's fictionalized take, or to learn much about the present-day Yarkpai at all. Objects in the Mirror begins in Adelaide then flashes back to spend its first act recounting young Shedrick's harrowing, years-long trek to escape war-torn West Africa, which requires him to adopt a false identity and backstory. Act II follows his early days in Australia, as he chafes against living a lie.
Daniel Kyri is magnetic as Shedrick in Chuck Smith's Goodman Theatre production, which also benefits from Riccardo Hernandez's simple but stunning scenescapes. But we never really learn anything about the hopes or dreams of this version of Shedrick—he can't go back to where he came from, but where is it he wants to go? And then there's the conflict between Shedrick's slippery uncle (Allen Gilmore) and the Australian benefactor (Ryan Kitley) who offers to help clear Shedrick's record. The Australian has a suspicious whiff of white savior about him from the start, but when the playwright flips the gay-panic switch it leaves a bad aftertaste. Objects well conveys that refuguee trauma doesn't end with resettlement. But in the context of the play, we want to root for Shedrick's way forward—while the play spends all of its time looking in the rearview.
Goodman Theatre. By Charles Smith. Directed by Chuck Smith. With Daniel Kyri, Allen Gilmore, Ryan Kitley, Breon Arzell, Lily Mojekwu. Running time: 2hrs 15mins; one intermission.