Oohrah! at LiveWire Chicago Theatre | Theater review
Bekah Brunstetter looks affectionately at a small-town family wondering if they'll ever have enough.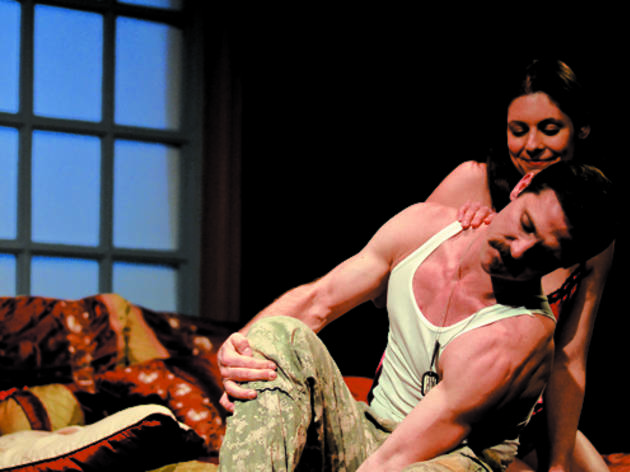 Most of the characters in Bekah Brunstetter's empathetic 2009 drama struggle with the notion of enough. Sara (Melissa Engle) worries over decorating her house and whether she knows the difference between well-appointed and white trash. Her husband, Army captain Ron (Josh Odor), is newly returned from Iraq and uncertain if Fayetteville, North Carolina, and some middle-management job are enough for him. Sara's sister, Abby (Calliope Porter), is engaged to good-natured, low-ambition Christopher (Joel Ewing); though he clearly loves her, can she convince herself that's sufficient? Abby meets Chip (Ian R. Tranberg), a new arrival in Fayetteville, who's been denied his own dream and can't imagine anything could be enough to replace it.
Brunstetter, herself a North Carolina native, has apparent affection for her small-town denizens and their longings. In Brad Akin's sound, honest production, we do as well. The playwright's setups can occasionally feel forced; Abby's actions, in particular, strike one as unlikely. But the relationships in LiveWire's production are rich enough to bring us along. The sisterly back-and-forth between Engle and Porter feels especially lived-in. Ewing leans a tad too heavily on his character's goofy antics, which seems largely Brunstetter's fault; Christopher's buffoonery is at odds with the measured tone of the play's other scenes. Peter Esposito, as a grandfather in declining health, gets a pair of moving passages meant to remind us when enough is enough.