1/2
Photograph: Michael Brosilow
John Patrick Shanley, BJ Jones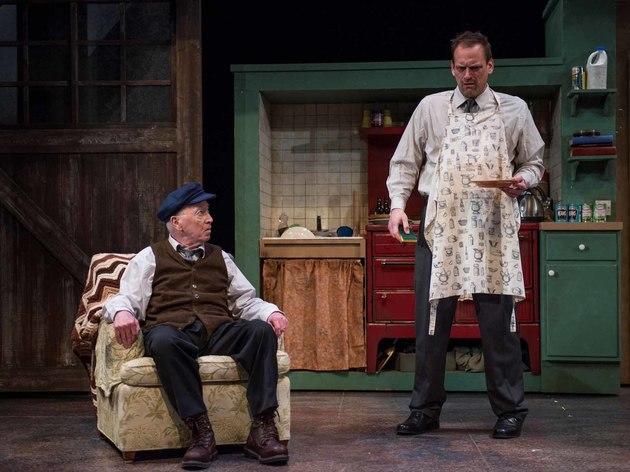 2/2
Photograph: Michael Brosilow
John Patrick Shanley, BJ Jones
Kate Fry anchors John Patrick Shanley's slight but spirited new work at Northlight.
How lucky for us all that the reports of Kate Fry's retirement from acting were apparently greatly exaggerated. Word around town after Fry's bracing turn as Hedda Gabler at Writers Theatre at the beginning of last year was that it would be the actor's swan song. How delightful, then, was the announcement that Fry would reignite her feisty flame at least once more for Northlight's Chicago premiere of John Patrick Shanley's latest. Anyone who sees her achingly, practically comic take on Shanley's Rosemary Muldoon will surely hope Fry's found a second wind.
Rosemary is the daughter of the newly widowed Aoife Muldoon (Annabel Armour, flintily suggesting a rural Irish version of another Shanley heroine: Olympia Dukakis as Moonstruck's Rose Castorini). The pair are mourning the recent loss of Rosemary's father, Chris, but Rosemary's focus is ever on her neighbor, Anthony Reilly (Mark L. Montgomery). An ancient land dispute between Rosemary's father and Anthony's (the elder Reilly played by William J. Norris) has made the two families inextricable frenemies—but not as inextricable as Rosemary would have it.
Shanley's whimsical one-act trades in shades of grief, for both the losses of what we've had and the frustrations of what's remained out of reach. Rosemary and Anthony each find closure with their remaining parent, but Rosemary takes a stand against ingrained ridiculousness to demand what's hers and what just makes sense. "I've been older than all of ye since I was born," she proclaims to the assembled, squabbling foursome, and Fry makes you believe it.
The ultimate revelation of the reason for Anthony's resistance to her wiles doesn't quite fly, but regular sparring partners Fry and Montgomery find as fertile a resolution as could be hoped.
Northlight Theatre. By John Patrick Shanley. Directed by BJ Jones. With Kate Fry, Mark L. Montgomery, William J. Norris, Annabel Armour. Running time: 1hr 25mins; no intermission.