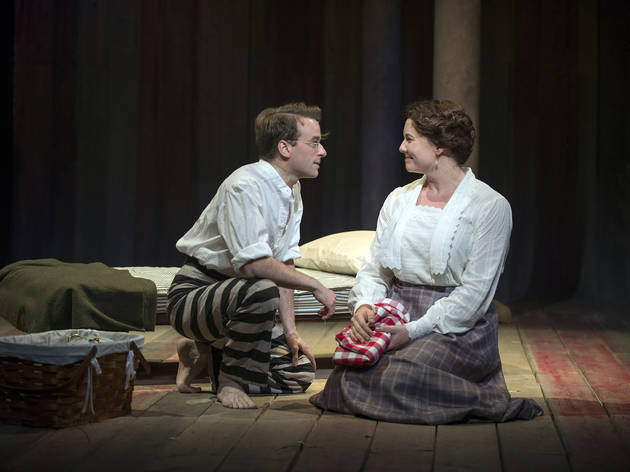 1/12
Photograph: Michael Brosilow
Parade at Writers Theatre
2/12
3/12
Photograph: Michael Brosilow
Parade at Writers Theatre
4/12
Photograph: Michael Brosilow
Parade at Writers Theatre
5/12
Photograph: Michael Brosilow
Parade at Writers Theatre
6/12
7/12
Photograph: Michael Brosilow
Parade at Writers Theatre
8/12
9/12
Photograph: Michael Brosilow
Parade at Writers Theatre
10/12
11/12
12/12
Jason Robert Brown's impressive score and a strong cast make for an enjoyable staging of the somewhat chilly musical.
There's a curious diffuseness that marks this 1998 musical, based on the true case of Leo Frank, a Brooklyn Jew living in Georgia in the early 20th century, where he was accused of the murder of a young girl in the employ of the pencil factory Frank managed. Frank steadfastly maintained his innocence through his conviction in a trial that garnered national attention for the anti-Semitism and xenophobia that marked it.
Playwright Alfred Uhry, an Atlanta native whose work often focuses on the Jewish community in the South, and composer Jason Robert Brown, making his Broadway debut, earned Tony Awards for their book and score, but Parade lost the best musical award to the dance revue Fosse. Gary Griffin's new production at Writers Theatre, like every production of Parade I've seen, doesn't manage to solve the structural issue that keeps the audience at a remove in spite of the show's component pleasures.
Uhry and Brown's telling puts weight on the effect of the accusation, trial and appeals on the relationship between Leo and his wife, Georgia native Lucille. It's through this hardship, the show suggests, that Leo and Lucille truly begin to understand one another. But Uhry, particularly, goes out of his way to also show us a parade of context about the setting, spending precious capital on putting us in the mindset of Atlantans 50 years after the Civil War, detailing the political machinations behind the trial and suggesting the state of race relations in 1913. (As a Southerner myself, I'm strongly resistant to most attempts to sentimentalize the Confederacy.)
Yet with so much time spent on scenes of the prosecutor and the trial judge fraternizing on fishing trips, for instance, we never get inside the heads of either Leo or Lucille. Inside their marriage, perhaps—particularly in Lucille's stirring statement song "You Don't Know This Man," sung here with moving insistence by Brianna Borger. But even in a production as lushly staged as Griffin's, with strong performances by Borger, Patrick Andrews as Leo and a stalwart ensemble cast, we can't help feeling the parade is passing us by.
Writers Theatre. Book by Alfred Uhry. Music and lyrics by Jason Robert Brown. Directed by Gary Griffin. With Patrick Andrews, Brianna Borger. Running time: 2hrs 35mins; one intermission.