1/8
Photograph: Lara Goetsch
Paradise Blue at TimeLine Theatre Company
2/8
Photograph: Lara Goetsch
Paradise Blue at TimeLine Theatre Company
3/8
Photograph: Lara Goetsch
Paradise Blue at TimeLine Theatre Company
4/8
Photograph: Lara Goetsch
Paradise Blue at TimeLine Theatre Company
5/8
Photograph: Lara Goetsch
Paradise Blue at TimeLine Theatre Company
6/8
Photograph: Lara Goetsch
Paradise Blue at TimeLine Theatre Company
7/8
Photograph: Lara Goetsch
Paradise Blue at TimeLine Theatre Company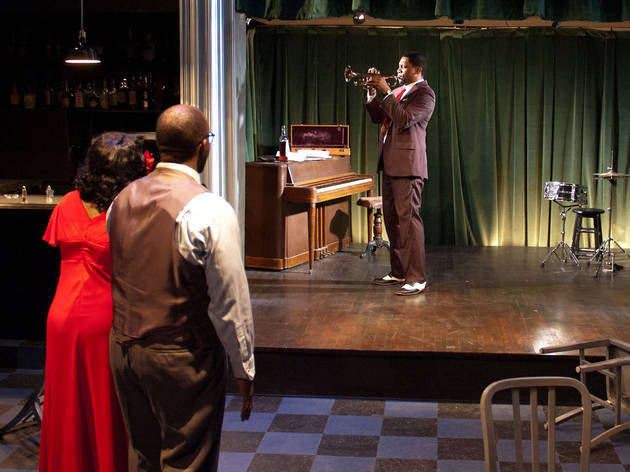 8/8
Photograph: Lara Goetsch
Paradise Blue at TimeLine Theatre Company
Dominique Morisseau's ensemble drama, set in a faltering Detroit jazz club in 1949, doesn't have much range.
Set in a jazz club and boarding house in Paradise Valley, the black entertainment district of mid-20th-century Detroit, Dominique Morisseau's 2015 drama trucks in musical metaphors and quotes extensively from the poet Georgia Douglas Johnson. But instead of agile, improvisational or lyrical, Paradise Blue feels weighed down with exposition, cliché and florid pronouncements.
Blue (Al'Jaleel McGhee), who inherited the Paradise Club from his father, is fielding offers to sell—part of Detroit's real-life "urban renewal" plan that paved over much of the city's black business center. Blue's house musicians, Corn (Ronald L. Conner) and P-Sam (Charles Andrew Gardner), don't want to be displaced; neither does Pumpkin (Kristin E. Ellis), Blue's girlfriend and the Paradise Club's put-upon bartender, cook, maid and general domestic, who's never ventured beyond Detroit and doesn't desire to.
The arrival of a mysterious female stranger named Silver (Tyla Abercrumbie)—complete with femme-fatale entrance music, part of the score composed for TimeLine's production by the Chicago Jazz Philharmonic's Orbert Davis—ostensibly lights Blue into action, as Silver has her own designs on the club.
But action is a strong word; Blue really only ever seems to react, whether to perceived slights by his girl and his band or to the demons he's predictably tormented by. Ron OJ Parson's production feels most alive in scenes between Abercrumbie and Conner or Ellis, while Morisseau's central character is lacking in defining characteristics, and what she gives him feels derivative. We're drawn in more by the secondary plots, but only kind of by Blue.
TimeLine Theatre Company. By Dominique Morisseau. Directed by Ron OJ Parson. With ensemble cast. Running time: 2hrs 40mins; one intermission.
Rating Breakdown
5 star:

1

4 star:

0

3 star:

0

2 star:

0

1 star:

0
My husband & I were hesitant to see the show after its rating, but I LOVED this production. Such a powerful experience. Beautiful jazz pieces. Brilliant story told by brilliant actors. Charles Garner (bio says he's a fellow NIU alum!) & Tyla Abercrumbie were AMAZING throughout! Ron Connor & Kirstin Ellis were both charming. Aljaleel Mcghee gave us so much emotion in the production- his outburst broke my heart to pieces. Also, kudos to set designers, they created a truly immersive experience. Please use this set design again,Timeline!
not sure why only 2 stars- in my opinion it is Chicago theater at its best!