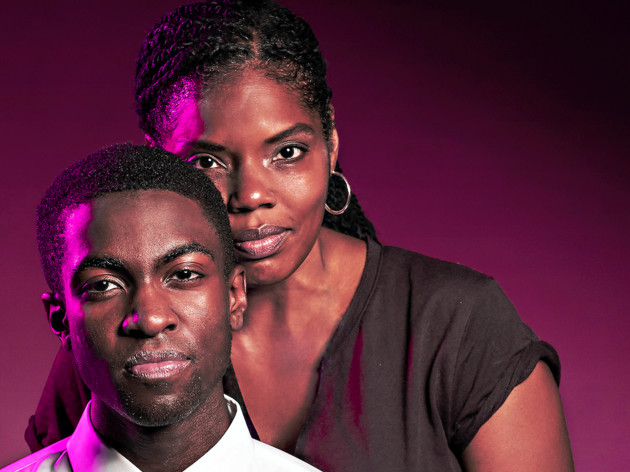 Time Out says
Theater review by Alex Huntsberger
Dominique Morisseau's Pipeline is not set in Chicago, but its subject matter aligns closely with this city's ongoing and intersecting crises of race, class and education. A social drama chronicling an African-American woman's battle to keep her son out of the school-to-prison pipeline, the play's exact setting doesn't need to be specified. It could happen anywhere, because it is happening everywhere.
Nya (Tyla Abercrumbie) works at a public school, where students enter through metal detectors and teachers like her colleague Laurie (Janet Ulrich Brooks) risk getting slashed in the face. That's why Nya has placed her son Omari (Matthew Elam) in a private boarding academy. But Omari has gotten into a fight there that puts him at risk of expulsion. He is boiling over with a rage that neither Nya nor her ex-husband, Xavier (Mark Spates Smith), understands; when he tries to explain why he pushed a teacher in the middle of class, he catalogs a litany of subtle slights that she cannot fathom provoking such a reaction.
Though uneven, Pipeline manages to sidestep many of the pitfalls that can snag dramas of this kind. What Omari describes to his mother, for instance, is a textbook description of "microaggressions," but Morisseau opts for evoking his experience rather than slapping an easy label on it. And while the play is too schematic in its organization, it has a strong heartbeat that makes even the stiffest set pieces—such as a speech from Omari's girlfriend Jasmine (Aurora Real de Asua) on the dislocation of prep school life—pulse with life.
It's frustrating, then, that so many of the performances in Cheryl Lynn Bruce's production feel underdeveloped. Andrew Boyce's brutalist schoolhouse set should double as a kind of gladiatorial arena where cast members can go toe to toe, but very rarely does anyone draw blood. Abercrumbie does great work capturing Nya's slow nervous breakdown, and Brooks delivers a pair of pitch-perfect rants, but the rest of the cast falls short. Pipeline keeps returning to the notion of rage as a young black man's inheritance, but the fury doesn't come through in the performances. Given Chicago actors' knack for high emotion, you'd think this production would at least have that part down.
Victory Gardens Theater. By Dominique Morisseau. Directed by Cheryl Lynn Bruce. With Tyla Abercrumbie, Ronald L. Conner, Matthew Elam, Aurora Real de Asua, Mark Spates Smith, Janet Ulrich Brooks. Running time: 1hr 30mins. No intermission.
Details
Users say