Pippin at Bohemian Theatre Ensemble | Theater review
Stephen Schwartz and Roger O. Hirson's 1972 musical is like Candide by way of Xanadu, but fails to mesh the two.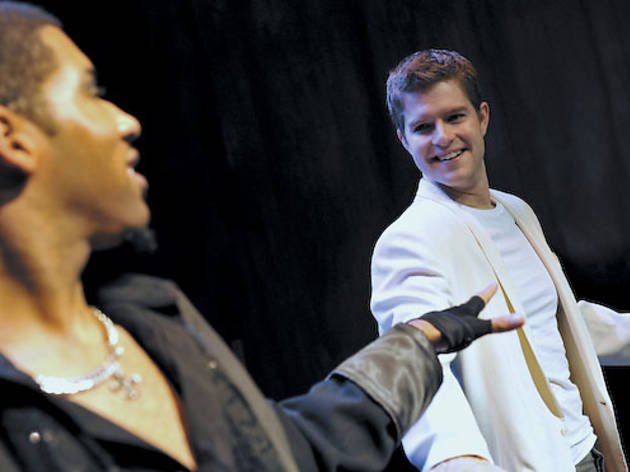 "You want your life to have meaning, do you?" Pippin's father, Charlemagne, asks him. "That's very ambitious." The same could be said about Roger O. Hirson and Stephen Schwartz's 1972 musical, a socio-political satire held together by wanna-be pop-crossover tunes. It's like Candide by way of Xanadu, and the two disparate styles fail to mesh into a captivating whole. The "plots to bring disaster" promised in the opening number lack emotional gravity to balance the broad comedy, and the songs don't have character specificity to elevate them beyond their catchy melodies.
Pippin's (Shaun Nathan Baer) quest for a purposeful existence takes him from academia to the military, politics and ultimately common labor, teaching him that the most extraordinary things in life are the comforts of home and the love of a family. A group of players led by Travis Porchia serve as story guides, but their primary job is to fill out the meager plot with spectacle. Baer and Porchia are serviceable in their principal roles, although Porchia struggles to be heard when singing in his upper register. Dana Tretta stands out as the recently widowed Catherine, with silky vocals and emotional depth that captures the pain and guilt of forgetting her husband while pursuing a future with Pippin.
Brenda Didier's Fosse-inspired choreography is the production highlight, particularly when dance is a stand-in for sex. The turbulently erotic dance break after "With You" captures the chaos of Pippin's sexual awakening, and the short pas de deux in the second act is a clever comic representation of inadequacy in bed.