1/6
Photograph: Johnny Knight
Vincent Lonergan, Jon Steinhagen and Katie Worthington in Plainsong at Signal Ensemble Theatre
2/6
Photograph: Johnny Knight
Tom McGrath, Cale Manning, Joseph Stearns and Jack Edwards in Plainsong at Signal Ensemble Theatre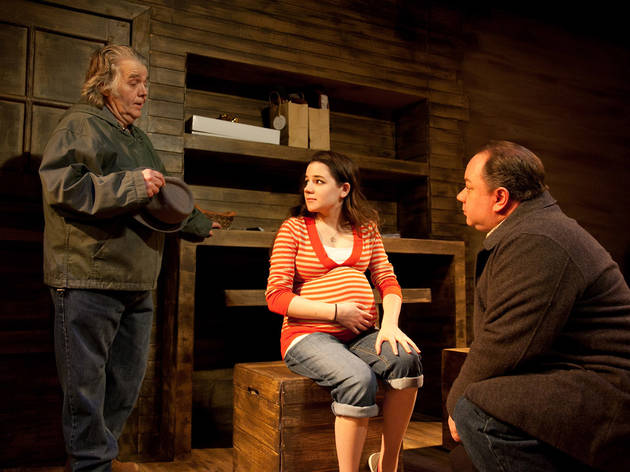 3/6
Photograph: Johnny Knight
Vincent Lonergan, Elizabeth Stenholt and Jon Steinhagen in Plainsong at Signal Ensemble Theatre
4/6
Photograph: Johnny Knight
Vincent Lonergan and Jon Steinhagen in Plainsong at Signal Ensemble Theatre
5/6
Photograph: Johnny Knight
Vincent P. Mahler and Jon Steinhagen in Plainsong at Signal Ensemble Theatre
6/6
Photograph: Johnny Knight
Barbara Roeder Harris and Elizabeth Stenholt in Plainsong at Signal Ensemble Theatre
Signal Ensemble Theatre. By Eric Schmiedl. Directed by Bries Vannon. With ensemble cast. 2hrs 30mins; one intermission.
Theater review by Kris Vire
Colorado author Kent Haruf's novel Plainsong, a finalist for the 1999 National Book Award in fiction, takes place in a ranching town called Holt in the rural plains east of Denver. In Eric Schmiedl's stage adaptation, which premiered in 2008 at the Denver Theater Center, Holt's residents seem to keep one collective foot in the imagined American cowtown innocence of the mid–20th century, and the other—somewhat more tentatively—in the world that was prepping for Y2K.

Plainsong the play introduces us to what could be a majority of the town's population; director Bries Vannon's Chicago premiere sports 19 actors, many of whom play three or more roles but still feel like they deserve more to do than mostly pop in as narrators for the more central stories.

One of those arcs is that of Tom Guthrie (Joseph Stearns), a teacher at the local high school whose deeply depressed wife Ella (Erin Myers) seems to be leaving him and their two young but preternaturally wise boys Ike (Cale Manning) and Bobbie (Jack Edwards) in small steps.

The other main plotline belongs to one of Tom's students, Victoria Roubideaux (Elizabeth Stenholt), who, pregnant and tossed out on the street by her mother, ends up taken in by the kindly bachelor-rancher McPheron brothers (Vincent P. Mahler and Jon Steinhagen).

Both sets of characters get an assist from another teacher, Maggie Jones (Katie Worthington), and there are welcome deviations from the expected as these core tales play out. Mahler and, particularly, Steinhagen resist the easy temptation to play their characters as dim-bulb buffoons, and Stenholt, an actual teenager playing a teenager (she's currently a senior at Maine West High School in Des Plaines), brings a notably artifice-free honesty to her role.

Much of the dialogue, at least as rendered in Schmiedl's script, comes across as too floridly plainspoken, if there is such a thing: "You're going to die someday without ever having had enough trouble in your lives—at least not the right kind," goes one prime example—a little too rural noir for the end of the century.

And while the interconnectedness of the whole town's stories and the just-so nature of their presentation seems part of Haruf's point, many of the characters on the edges are given too short shrift in Schmiedl's adaptation: Rudy Galvan's high-school bully and his indulgent parents (Philip Winston and Mary Jo Bolduc), Sara Gorsky's school secretary and Bolduc's priggish Denver aunt to Ike and Bobbie all feel underdeveloped, as does Maggie's underwritten romance with Tom. Still, Vannon's inclusive staging makes us feel a part of the neighborly action while mostly avoiding oversentimentality.