Playwright David Ives's The School for Lies at Chicago Shakespeare Theater
The Chicago native on adapting French classical comedies and falling in love with verse.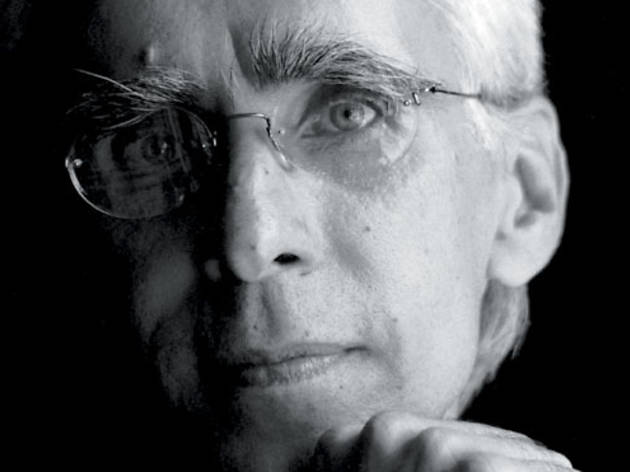 "I've always found The Misanthrope a very unsatisfactory play," David Ives says. "A great idea for a play, but somehow unsatisfactory."
Ives, the reedy, bespectacled playwright perhaps best known for his collections of short comedies, All in the Timing and Time Flies, speaks with me over coffee at Navy Pier early one morning. Later he'll enter day two of rehearsal for The School for Lies, his adaptation of The Misanthrope, at Chicago Shakespeare Theater.
"Like a lot of Molière's plays, for me, it seemed to start too late and end too early," Ives says. "Molière starts with the misanthrope and Celimene already in love. And every time I would see that play, I would think, Well, how in the world did these two people ever get together?"
Ives, 62, has become a bit of an old hand at adapting French classical comedies. His previous production at Chicago Shakes was a 2006 version of Feydeau's A Flea in Her Ear, commissioned by the theater. That led Washington, D.C.'s Shakespeare Theatre Company to ask Ives for a new translation of Pierre Corneille's The Liar, which premiered in 2010. "They seemed to think that I could speak French…which is a somewhat mistaken impression, in that my French at the time was based on two years of advanced French at Northwestern and a month with a girlfriend in Paris," says the Chicago native and Northwestern alum.
The Liar marked Ives's first time working in verse. "Rhymed couplets tend to be fairly deadly in English drama; they've never really caught on. So I decided I was going to change that and make rhymed couplets into the future of American and/or British theater," he says. "Once I started working on it, I decided everything should be in verse. I think the newspaper should be in verse. I think recipes should be in verse."
After The Liar's success in Washington (Writers' Theatre stages the Chicago premiere in May), Ives was approached by New York's Classic Stage Company, which had just produced Ives's Venus in Fur. "Brian Kulick, the artistic director, came to me. He seemed to think I could speak French as well," Ives says with a wry smile. "He said, 'Are there any plays that you want to adapt?' I said, 'Well, I've never particularly liked The Misanthrope. Why don't I fix that?' "
The School for Lies opened at Classic Stage Company in spring 2011. Later that year, Venus in Fur—an erotic power struggle that garnered outstanding reviews at CSC in 2010—was remounted on Broadway by Manhattan Theatre Club, earning a Tony nomination for best play, Ives's first. He's currently working on a musical with Stephen Sondheim.
Ives grew up going to the theater (his first play was Pinocchio at the old Goodman Theatre) and wrote his first script at age nine. At 17, he knew he'd be a playwright for life: "I went to the Studebaker Theatre on Michigan Avenue to see Hume Cronyn and Jessica Tandy do A Delicate Balance," he says. "I bought a ticket for $3.75 and sat in the balcony, and I had never seen anything so thrilling in my life—not even the Bobs [roller coaster] at Riverview. I might as well have gone home and left a note on the kitchen table that said, 'Dear Mom and Dad, I'm going to be a playwright. Please don't try and stop me.' "
The School for Lies begins Tuesday 4.