Porgy and Bess at Court Theatre | Theater review
A theater-scaled production of the Gershwins' folk opera is an aching, resounding success.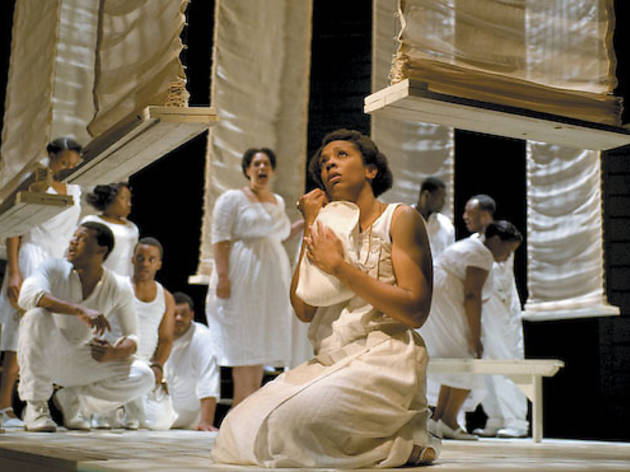 Upon the 1935 debut of Gershwin's magnum opus, mandarin critic and composer Virgil Thomson declared it a work "with a libretto that should never have been written on a subject that should never have been chosen," while still allowing the "considerable power" of the score, fusing jazz, classical and folk-Yiddish idioms. Later accusations of sentimental racism have shared space with appreciation of Gershwin's syncretic genius, until Porgy and Bess can come to seem as archetypal in its failures as in its victories, nowhere more American than in its impossible effort to negotiate the color line.
One might fret, at first, while the Court's white-clad ensemble makes its way down the aisles to the bare stage, that the unnerving echoes of Godspell portend the kind of well-meaning schmaltzfest that would be this treacherous piece's doom. And then once Harriet Nzinga Plumpp, as young mother Clara, launches into the piercing strains of "Summertime," she lays such concerns decisively to rest.
Two decisions on the part of director Newell, along with music director Douglas Peck and artistic consultant Ron OJ Parson, account for this production's resounding success. First, full attention to Gershwin's ravishingly chromatic score is invited through minimal staging and the adaptation of the original recitatives; when Porgy (Kryger) and Bess (Rogers) launch into the first act's "Bess, You Is My Woman Now," for instance, it has a hypnotic focus closer to the endlessly unfolding modulations of Wagner than to a traditional showtune.
Second, the Court's cast is decidedly a musical theater ensemble, not an operatic one. While there are some ferociously accomplished voices on display, the singing is always in service to the revelation of character. More than anything else, this acting depth wrenches Catfish Row out of its shady origins in minstrelsy, discovering and expressing the tragic depth of a marginal community and its most marginal inhabitants.
Kryger's searing portrait of the disabled beggar who finds his life's meaning in his love for Bess, for instance, transforms Porgy into a real folk hero. As he sings Heyward's not particularly inspired lyrics, "Morningtime, eveningtime, summertime, wintertime," his ardor infuses them with mythic promise, opening a window to a fragile paradise. The grim determination with which he sets off for New York at the piece's close achieves a heart-stopping catharsis, seemingly resonant with all the crushing weight of history and the resolute will to overcome it.
In Rogers's Bess, Porgy meets his match. Rogers has a tougher job than Kryger, no doubt: Alcoholic and flighty, and yet able to elicit earth-shattering passion, Bess in the most charitable view dances on the edge of misogynistic caricature. But Rogers grounds her. In a richly textured performance, she suggests the intricate calculus Bess has relied on for survival even as she makes clear the novel sense of possibility that Porgy's rare decency has awoken.
There are quibble-worthy aspects of this Porgy and Bess: The climactic death of Crown seems oddly rushed, and there's one or two too many recitative sequences in which communal concern edges into atonal murk. But it easily offers a half-dozen of the moments that explain why people go to live performance: Beyond those mentioned so far, they range from Bethany Thomas's harrowing, majestic "My Man's Gone Now," to the delicate wonder of Joelle Lamarre's pitch for strawberries, answered by Bear Bellinger's ode to honey. If you come in unconvinced of Porgy and Bess's place in our theatrical canon, you'll leave Hyde Park possessed with its strange and somber beauty.