Powerless follows superpowered twentysomethings
The ad hoc Society for Young Superheroes will produce three "issues" of its new comics-inspired stage endeavor.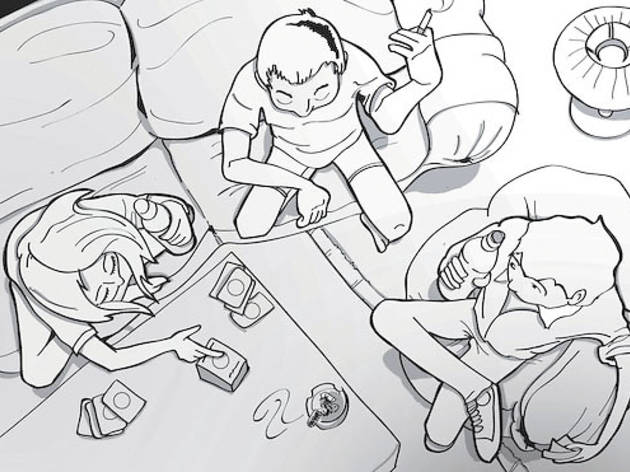 The X-Men are any minority group that's ever fought for acceptance; Batman is the common man pushed to extraordinary lengths by guilt and vengeance. Beyond the colorful getups, the superhero genre can offer surprising insights into the human condition. Case in point: The new play Powerless tells a coming-of-age story centered on three superpowered twentysomethings trying to find their place in a post-undergrad world.
Structured as three "issues," Powerless is a serial with the potential for expansion—one of the play's many ideas taken from comic books. Writers Mitch Salm and David M. Brent turned to fellow U. of C. alum and comic-book fan Jack Tamburri to direct an April 2010 reading of the first "issue," Super. The three men then approached Hannah Fenlon of Two Birds Casting to produce the show as the Society of Young Superheroes, taking the name from the play's anti-establishment gang of heroes.
"We're not really hell-bent on creating a theater company because all of us are smart enough to know that's a crazy fucking idea," says Fenlon at a preview party at Logan Square's Challengers Comics. "If [the play] flies, it flies and we do more issues."
To manage the more fantastic elements, particularly fight sequences and superpowers, the Society solicited comic panels from local and national artists, who were found via postings on the Art Institute and Chicago Artists Resource sites. Heading the art team is graphic designer Quinn Fenlon (brother of Hannah), who creates visual consistency among the panels by inking the contributing artists' pencils. All the artists have donated their time, but the choice to use panels isn't just financially motivated; it also serves a structural purpose.
"In comics, art and text are two parallel tracks of storytelling that pull you through the narrative experience," says Tamburri, an M.F.A. student at Yale School of Drama. "With theater being such a collaborative medium that involves a lot of different modes of storytelling molded together, how do we stratify those so that you can appreciate them as tracks of storytelling like on a comics page? There's song. There's acting. And then there's the drawn panels."
While Broadway's Spider-Man: Turn Off the Dark aims for a similar effect on a grander scale, incorporating song and dance with huge graphic cutouts and stylized set pieces, Tamburri thinks that production falls into the genre trap the Society's trying to avoid. "There's not a lot of superhero plays because it's hard to make that visual language read onstage without being cheesy and sad," says Tamburri, whose first Chicago gig was in the band for the House Theatre's superhero-themed Valentine Victorious. "It's hard to make those costumes look good, and it's hard to make that kind of storytelling through fighting entertaining onstage."
To overcome these obstacles, the Powerless set comprises eight quadrangular surfaces that the panels are projected on, turning the stage into a comic-book page. Environments are suggested with free-standing props, while the empty space onstage is intended to resemble the gutters between comic panels.
Yet the creators believe that soul comes before spectacle. "There's so much humanity in these superheroes," says Ariana Dziedzic, who plays Maggie, a musician with the ability to control sound waves who'd rather play with her band than join a superteam. "They're not these epic people, they have flaws. You're not just seeing an idea, you're seeing a person."
Now in previews, Powerless: Issues 1–3 opens Saturday 6.