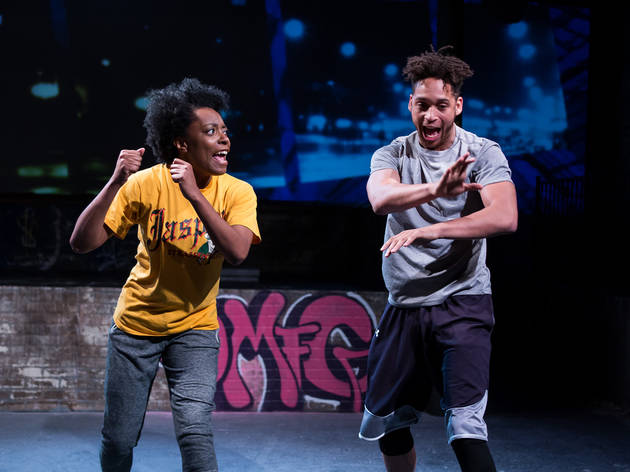 1/7
Photograph: Joel Maisonet
Prowess at Jackalope Theatre Company
2/7
Photograph: Joel Maisonet
Prowess at Jackalope Theatre Company
3/7
Photograph: Joel Maisonet
Prowess at Jackalope Theatre Company
4/7
Photograph: Joel Maisonet
Prowess at Jackalope Theatre Company
5/7
Photograph: Joel Maisonet
Prowess at Jackalope Theatre Company
6/7
Photograph: Joel Maisonet
Prowess at Jackalope Theatre Company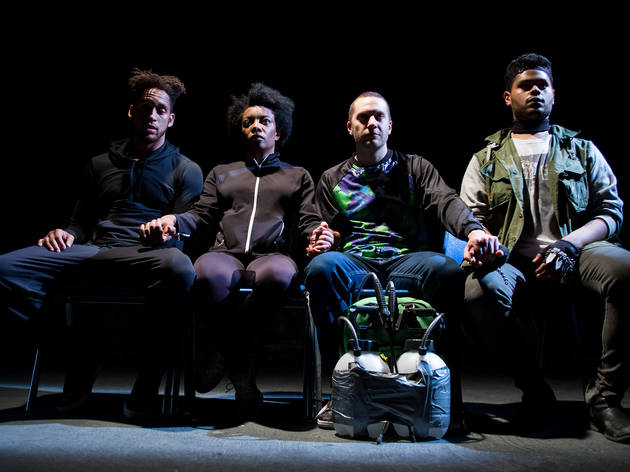 7/7
Photograph: Joel Maisonet
Prowess at Jackalope Theatre Company
Avenging Chicagoans form a league for justice in Ike Holter's vigilante narrative.
As Chicagoans, it's natural to feel frustrated and helpless in the face of the city's violence epidemic. With systemic and institutional issues seemingly intractable, the instinct to want to fight back individually is understandable—particularly for those who've been personally affected. Prolific young writer Ike Holter's latest work takes that idea to its extreme, taking up a comic-book aesthetic to imagine a quartet of ordinary, non-superpowered citizens deciding to do something, vigilante style.
Mark (Julian Parker) answers a Craigslist ad looking for self-defense training that was placed by Zora (Sydney Charles), an aide to an alderman who's looking to reclaim her confidence following a trauma. But Zora's not satisfied with defense; she wants to learn offense. When her awkward, idealistic coworker Andy (Andrew Goetten) interrupts a training session, it turns out he has his own reasons for wanting in. Though they're warned off by a self-appointed neighborhood watcher (Donovan Diaz), the group sets off to do some unauthorized good in their 'hood.
Whereas modern superhero movies are often criticized for the consequence-free "destruction porn" of city-razing climactic battles, Prowess zooms in to examine the damage inflicted on the psyches of these street-level non-supers by fighting violence with violence. Under Marti Lyons's sharp direction, Holter's work is engaging and exhilarating, with huge aesthetic assists from Michael Stanfill's cracking projections and Ryan Bourque's kickass fight choreography. Scene-to-scene, the script can veer slightly out-of-focus, with all four characters frequently speaking in Holter's characteristic verbose tirades. But as in some of his other best works (Hit the Wall, Exit Strategy), Prowess uses disarming irreverence and a little bit of fantasy to get us thinking freshly about real-world heroic themes.
Jackalope Theatre Company at Broadway Armory Park. By Ike Holter. Directed by Marti Lyons. With Sydney Charles, Julian Parker, Donovan Diaz, Andrew Goetten. Running time: 2hrs 15mins; one intermission.