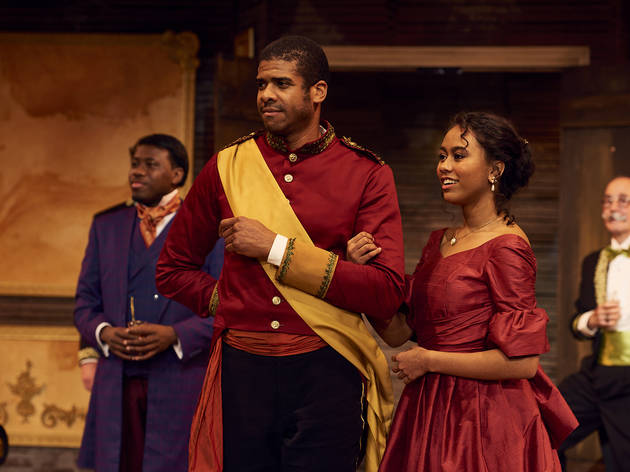 1/10
Photograph: Nathanael Filbert
2/10
Photograph: Nathanael Filbert
3/10
Photograph: Nathanael Filbert
4/10
Photograph: Nathanael Filbert
5/10
Photograph: Nathanael Filbert
6/10
Photograph: Nathanael Filbert
7/10
Photograph: Nathanael Filbert
8/10
Photograph: Nathanael Filbert
9/10
Photograph: Nathanael Filbert
10/10
Photograph: Nathanael Filbert
This fun, period farce refuses to be anything more, no matter how hard it tries.
It's a tricky proposition, putting on a classical play that you hope will speak directly to the present moment. Rare is the story or work from ages past that translates perfectly to a modern setting. Social mores change. They change a lot. Often the best you can hope for is a story that hits the general themes plaguing modern audiences, even if its actual take on the issues isn't quite up to date.
Such is the case with Ranjit Bolt's new translation of 19th-century French dramatist Eugène Scribe's The Puff—or Falsehood and Truth, a title that Bolt has tweaked into the more modern-sounding Puff: Believe it or Not. Scribe is most famous (or perhaps, infamous) for codifying and perfecting the "well-made play," and Puff is as tightly plotted as they come. Bolt has delivered an elegant yet roughhousing translation that makes the script feel, if not modern per se, at least something suited to contemporary actors and audiences.
The play's themes even touch on issues similar to the ones we're facing today. The opening scene between the elderly Parisian miser Cesar Desgaudets (David Darlow) and Albert (Joshua Moaney), the young, dashing cavalry officer who just saved the old man's life, features an explanation from Desgaudets about the nature of "puff" that makes it sound like the 1840s French version of "fake news."
Except not really. The kind of "puffery" Scribe's characters are constantly engaging in has no real contemporary application beyond the fact that people back then lied to advance their positions in life and, shocker, people still do that today. For modern audiences, "puff" is nothing more than a plot device. And yet the plot that it powers is an enjoyable enough ride that most audience members won't care.
Having recently returned from Africa, the honor-obsessed Albert runs into his old friend Maxence (Gregory Geffrard), now the very concept of puff personified; he's a broke stock trader who gives off the appearance of being wealthy and successful. After several years away, Albert is still in love with Maxence's sister, Antonia (Netta Walker), who happens to be Cesar's ward and is secretly also in love with Albert. Worrying that he's not rich enough to marry her, Albert lets himself get roped into a money-making scheme of Maxence's. The only problem is that he needs to ask Cesar, a famous penny pincher, for money.
Antonia, meanwhile, is dear friends with Cesar's daughter, the all-powerful literary critic Corinne (Kelsey Brennan). Corrinne is locked into a battle of wills with the wealthy politician-historian-literati member Comte de Marignan (Christopher Sheard), which is made all the more complicated when Marignan is arranged as a match for Antonia.
Over the course of two hours and 15 minutes, the play unleashes a series of twists and turns that will satisfy any audience member whose tastes run small-c conservative and who's looking to have a good laugh. The talented cast makes the most of the material, never letting the artificiality of the setting and plot get in the way of their good time.
As the young lovers, Moaney and Walker take characters that could so easily be dull and make them sparkle with life and verve and an immense amount of thirstiness. Brennan and Sheard make a great match as well; each uses aristocratic haughtiness like a drywall on which they can scrawl with crayon. And Darlow, as usual, is the steady, unyielding center around whom all these other performers bounce and twirl, all the while being just as funny as the rest of them.
Director Nick Sandys conducts the script's ever-blooming mayhem with great assurance, but the production still hits some false notes; a sudden switch from classical tunes to club music in Victoria DeIorio's sound design and the need to bathe Marignan's apartment in gold (the set is by Joe Schermoly) are "modernizations" so on the nose they bruise cartilage. These touches don't make the play feel modern. In fact, they do the opposite, making you realize just how old the thing really is.
Remy Bumppo Theatre Company at Greenhouse Theater Center. By Eugène Scribe. Translated by Ranjit Bolt. Directed by Nick Sandys. With ensemble cast. Running time: 2hrs 15mins; one intermission.
Rating Breakdown
5 star:

0

4 star:

1

3 star:

0

2 star:

0

1 star:

0
"George Bernard Shaw said of Scribe in a famous comment, 'Why the devil should a man write like Scribe when he can write like Shakespeare or Molière, Aristophanes or Euripides?' While most of Scribe's plays have been relegated to virtual obscurity, however, the profound effect the well-made form had on the historical development of modern European drama is undeniable….Most notably, Scribe's influence extends to Henrik Ibsen, who directed a number of Scribe's plays in Norway before producing his own dramatic works; his early works clearly reflect a Scribean influence, while his later works adapt the style of the well-made play, infusing it with symbolism. Other critics have detected Scribe's influence on Henry James and, ironically, Shaw as well. Despite Scribe's dramatic weaknesses, then, the well-made play exerted an immeasurable influence in the history of theater well into the twentieth century, shaping the nature of drama in a variety of movements, including realism, naturalism, and symbolism."