1/9
Photograph: Johnny Knight
Pygmalion at Remy Bumppo Theatre Company
2/9
Photograph: Johnny Knight
Pygmalion at Remy Bumppo Theatre Company
3/9
Photograph: Johnny Knight
Pygmalion at Remy Bumppo Theatre Company
4/9
Photograph: Johnny Knight
Pygmalion at Remy Bumppo Theatre Company
5/9
Photograph: Johnny Knight
Pygmalion at Remy Bumppo Theatre Company
6/9
Photograph: Johnny Knight
Pygmalion at Remy Bumppo Theatre Company
7/9
Photograph: Johnny Knight
Pygmalion at Remy Bumppo Theatre Company
8/9
Photograph: Johnny Knight
Pygmalion at Remy Bumppo Theatre Company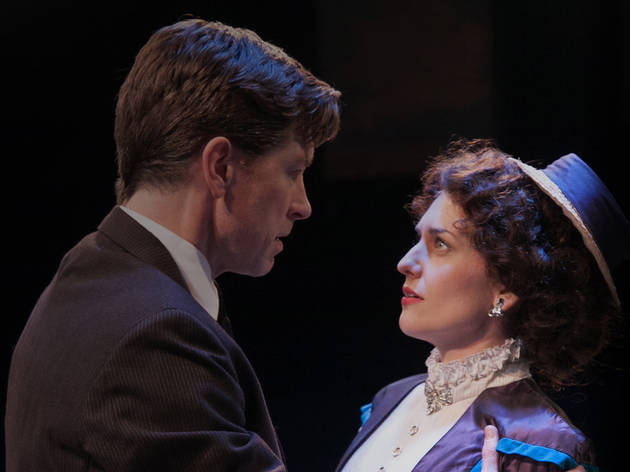 9/9
Photograph: Johnny Knight
Pygmalion at Remy Bumppo Theatre Company
Professor Higgins is a jerk in Remy Bumppo's memory-play take on Shaw's class comedy.
Henry Higgins is a dick. If there's one thing that director Shawn Douglass makes perfectly clear in his clean, clear-eyed new production of this George Bernard Shaw classic, it's that. And after watching the wonderful Nick Sandys in a performance that practically flays the character alive, it's hard not to agree.
The way Sandys plays him, Higgins is an ancestor to the modern manchild. He's still brilliant, of course, not to mention witty as all heck, but he's openly petulant too. People keep warning him that his experiment to pass off poor, cockney flower girl Eliza Doolittle (Kelsey Brennan, a worthy foil) as a duchess is short-sighted at best, possibly cataclysmic at worst. And when they do, he snorts at them.
This Higgins is prone to childish tantrums and to stalking around the room, hands jingling in his jacket pockets like a schoolboy waiting outside the principal's office. Sandys is a good looking fellow with a sonorous, dulcet voice, and yet his Higgins is so patently unattractive a human being as to dispel any and all notions that this story is a "romantic comedy." The climax of the play, a thorough tete-a-tete between Higgins and Eliza, is not a matter of "will they or won't they;" it's more "who the hell does he think he is." Brennan's winning performance as Eliza only makes the gulf between them even clearer: She's not just out of his league, the two of them aren't even playing the same sport.
While Remy Bumppo's production might downplay the rom-com side of things, it is still very much a comedy. Sandys and Brennan both deliver very funny performances, and Eliza's "coming-out" scene is flat-out hilarious. (The way Brennan pronounces the letter H is a thing of pure, comedic beauty.) The other standout performance is David Darlow as Eliza's father, Alfred Doolittle, whose slow postup delivery is the perfect working-class counterpart to the high-class lunacy surrounding him.
Productions of Pygmalion often take certain liberties with the published script, most times by cutting the play down from its full 3-hour-plus running time. Remy Bumppo's show clocks in around 150 minutes, which by Shaw's standards is practically a one-act. (To be fair, many of these edits are suggested by Shaw himself.) But the production takes other liberties as well—liberties of addition, not just subtraction.
The scenes being "added" are feature an older, wiser version of Eliza, played by Annabel Armour; her reminiscences of her time with Higgins are what transports the audience from scene to scene. As a moving company slowly strips the set of its furniture—with every scene, there is less and less—Eliza alternates between fonder memories and more bitter ones. (There's also a clever use of a phonograph to elide over the "rain in Spain" scenes in which Eliza learns how to speak "properly.") It's funny that this Pygmalion feels so thoroughly modern, all while framing the story through a lens of memory and nostalgia.
And Douglass's production does feel quite modern in the way it presents Shaw's characters. It does little to brighten the play's darker currents, or romanticize its more outdated attitudes. It shows Henry Higgins for the outrageous jerk that he truly is, and it goes out of its way to give Eliza the final laugh.
Remy Bumppo Theatre Company at Greenhouse Theater Center. By George Bernard Shaw. Directed by Shawn Douglass. With ensemble cast. Running time: 2hrs 30 mins; one intermission.