QED at theatre4humanity | Theater review
Peter Parnell's bio-play about physicist Richard Feynman follows a familiar formula.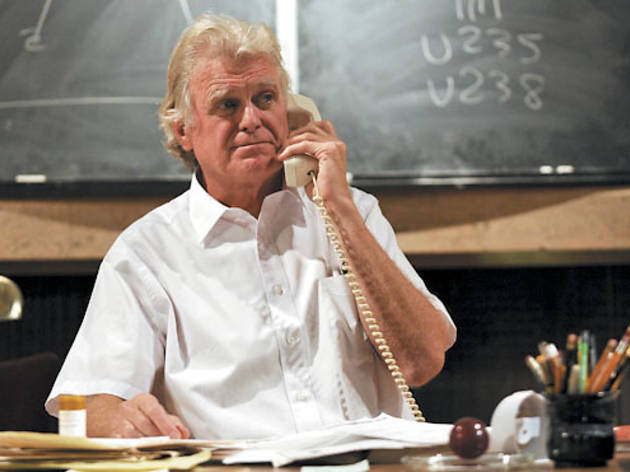 The shape of Peter Parnell's 2001 work about theoretical physicist Richard Feynman will be familiar to connoisseurs of the solo (or, in this case, nearly solo) bio-play formula. As in William Luce's The Belle of Amherst (about Emily Dickinson), for instance, or Jay Presson Allen's Tru (Truman Capote) or David Rambo's The Lady with All the Answers (Ann Landers), QED requires an actor to embody the historical figure in all of his or her broadly identifiable quirks, addressing us from his or her inner sanctum and dutifully reminding us of his or her greatest biographical hits, usually revealing in the course of a conversation with us (or with others, as Parnell has Feynman making and receiving phone calls throughout) that we're catching the individual at a moment of particular personal crisis.
The format can be a field day for an actor—QED was written at the behest of Alan Alda, who portrayed Feynman in the play's Broadway bow. Playing the man late in his career, puttering around his Caltech office and recalling his work at Los Alamos, his breakthroughs in the field of quantum electrodynamics and his great love for his late first wife, Rob Riley is an engaging presence, making hay of Feynman's intellectual curiosity and nutty-professor eccentricities. (Grace Wagner makes a couple of brief, thankless appearances as an eager student.) But in big-picture terms, Parnell's script is rote and stilted—the playwright actually has Feynman crafting a lecture titled "What We Know." It's hard to imagine a thinker so innovative approving a bio so by-the-book.