Randall Colburn's Hesperia gets a second production at Writers' Theatre
The Glencoe theater picks up Colburn's play less than two years after its initial outing at Ravenswood's tiny Right Brain Project.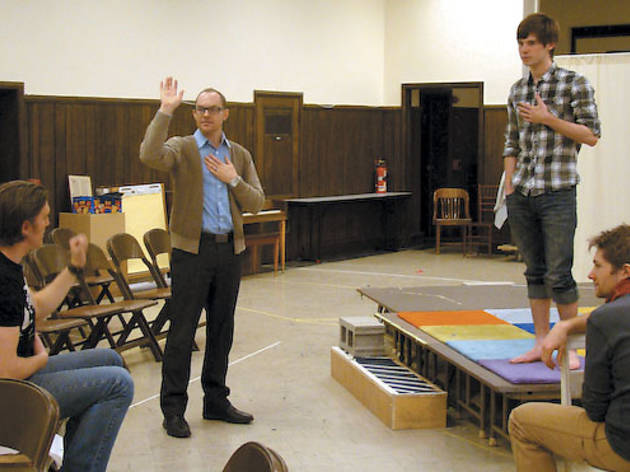 When does a new play cease to be a new play? What may seem a cut-and-dried question is thornier than it appears. The authors of Outrageous Fortune: The Life and Times of the New American Play, a much-discussed 2009 study by Theatre Development Fund, parsed the term's meaning: "For some it means a work no one has seen before. More often, though, the word describes a play that is new to the place it's playing, or that hasn't yet entered the contemporary canon."
I inadvertently initiated a definition debate last March, when Writers' Theatre announced its 2011–12 season. Writing about the theater's 20th-anniversary slate on TOC's Unscripted blog, I noted with interest that "there are no new works on tap for the anniversary celebration."
That earned me an e-mail from Writers' associate artistic director, Stuart Carden, who argued pleasantly and persuasively that the season absolutely did contain new work: Randall Colburn's Hesperia, which Carden would be directing, had just premiered at Ravenswood's tiny Right Brain Project in 2010. By characterizing "new work" exclusively as "world premiere," Carden said, I was doing a disservice to this young playwright's work receiving the all-important and often elusive second production.
He was right, of course. "Premiere-itis," as Outrageous Fortune calls it, can make a play's second or third production hard to get, especially for playwrights who are early in their careers or otherwise lesser known. "For theatres the premiere…sells the event as well as the play, bestows on the institution the privilege of discovery, first-ness, and, therefore, a sense of ownership," the authors wrote.
Writers' production of Hesperia is especially rare: a larger institution picking up a play from a storefront production in the same town. Normally, storefront productions pop up a few years after a play premieres at an institution: Mary-Arrchie's upcoming revival of Tracy Letts's Steppenwolf-born Superior Donuts, for example. For the reverse to occur is nearly unheard-of.
"I don't know why that has become the status quo, with a theater community that is this massive and with so many incredible incubators for new work, that it is pretty rare not only for Writers' but I think for most midsized to larger theaters to pick up a play," Carden says recently over coffee in the South Loop, continuing our conversation from last year.
Carden suggests the trickle-up model is common in other theatergoing cities around the world, but the U.S. and particularly Chicago are limited by "the world-premiere-itis disease that has swept this country."
Hesperia, in which a young woman tries to leave behind a porn career by escaping to a small Midwestern town and embracing the church, was well-received in its first outing. "I thought the Right Brain Project did a really terrific job with Randall's play," Carden says. Writers', which has another Colburn play under commission, saw an opportunity to let the prolific local playwright further his work on Hesperia, "[taking] a play that's very strong and allowing it to work out some of the kinks from the first production [to] the second," Carden says.
"We were so moved by the complexity of the characters and the way that he addresses sex and religion in a way that I think is pretty unique in American theater," Carden adds. "There's no way there's an audience overlap between Right Brain Project and Writers' Theatre."
Now in previews, Hesperia opens Thursday 2.
Sign up for Time Out Chicago's Unscripted e-mail newsletter to get our editors' top picks in theater, dance and comedy plus interviews, reviews and more in your inbox every Tuesday.