Red Light Winter at Mary-Arrchie Theatre Company | Theater review
Adam Rapp's 2005 love triangle gets an honest, superbly cast revival at Mary-Arrchie.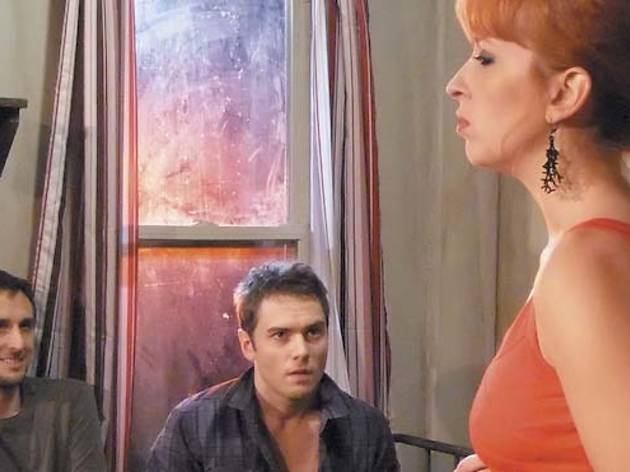 In a climactic speech, a self-loathing head case confesses his love to a woman he barely knows. What he has to say isn't pretty—he's a bumbling mess whose obsessive revelations grow from awkward to cringeworthy. But when revealed in their entirety, matters of the heart usually are. Bare honesty is what makes playwright Adam Rapp's 2005 drama rise above its own theatrical mumblecore-type genre. In Rapp's bleak universe, just as in reality, no one gets a clean Jerry Maguire moment.
Mary-Arrchie's superbly cast production follows college buddies Matt (Dan Behrendt) and Davis (Dereck Garner) on a trip to Amsterdam and their subsequent love triangle with a red-light-district prostitute (Sasha Gioppo). Between self-indulgent and occasionally meta arguments over literature—one of Rapp's weaker tendencies—the two unlikely friends switch off being one another's emotional support and competing for each other's approval. As the depressant protagonist, Behrendt conveys the right kind of angst, neither romanticizing his plight nor making it heroic. His love interest Gioppo does likewise, battling her own id between the two men. This methodical and engrossing effort by director Carlo Lorenzo Garcia does well not to let the play's tragic characters off the hook—instead, it's a harrowing indictment of love and the hopeless attempts young people make to navigate it.