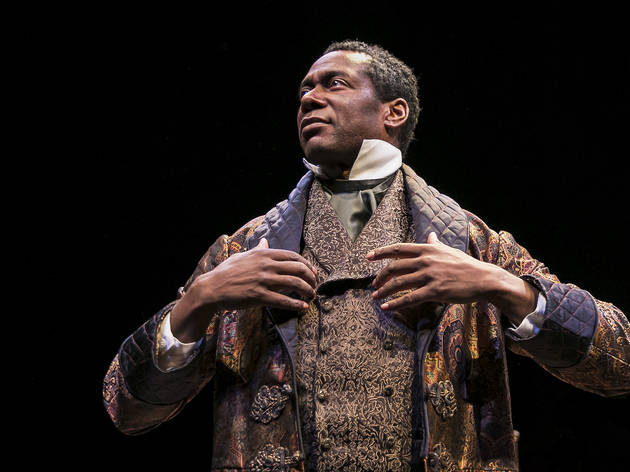 1/5
Photograph: Liz Lauren
Red Velvet
2/5
Photograph: Liz Lauren
Red Velvet
3/5
Photograph: Liz Lauren
Red Velvet
4/5
Photograph: Liz Lauren
Red Velvet
5/5
Photograph: Liz Lauren
Red Velvet
This story of an actor who refused to pander to racist audiences does some very effective pandering itself.
The playing space that Gary Griffin and designer Scott M. Davis have created for his production ofLolita Chakrabarti's Red Velvet is a hybrid stage and prison cell. With a large wreath of red curtain hanging overhead that's drawn down to cover scene changes—as though watching actors and crew move furniture around was somehow indecent—the space is incredibly isolating. And intentionally so.
For if there's one thing this story wants to impress upon us regarding its hero, the pioneering black stage actor Ira Aldridge (played by Dion Johnstone), it's that his life was a very lonely one. As it turns out, an unwillingness to compromise in the face of unyielding bigotry is a terrible way to make friends. White friends, at least.
The action begins in Lodz, Poland, in the 1860s, as Aldridge is touring through playing King Lear—a role we will later see him dress for, complete with nightmarish whiteface and a wig/beard combo that, taken together, make him look a folktale demon. The man is old, sick, cranky, and has little patience for the intrepid Polish reporter (Annie Purcell) who keeps asking why Aldridge has never returned to London after he played Othello there in 1833. The rest of the play provides the answer.
Aldridge was called in to perform the role in an ongoing production starring legendary English actor Edmund Keane after the man himself collapsed onstage. As he will be the first black actor to ever play Othello on the London stage, his being brought up causes a great deal of hubbub. The play makes sure to remind us that this is all happening in the midst of the abolitionist movement to ban the English slave trade.
Aldridge's casting is met with horror and suspicion by Keane's son, Charles (Michael Hayden), but a number of the other actors, including his leading lady—and Charles's fiancee—Ellen Tree (Chaon Cross) are less trepidatious. Aldridge's method is brash and his acting style is more modern. He brings an intensity to the role that Ellen, for one, finds thrilling, even if some misjudged blocking between them leaves her with some light bruises.
Meanwhile, Aldridge's longtime friend and manager of the theatre, Pierre LaPorte (Greg Matthew Anderson), warns him that his usual fiery interpretation might scare the theatre's white-haired, blue-blooded patrons. (Sound familiar?) He urges his friend to play the role more gently, to ease the audiences in. Aldridge does not listen to his friend, and the play climaxes with a long, drawn-out argument between the two over whether it was LaPorte who let Aldridge down, or vice versa. Blessedly, it is an argument that they do not resolve.
Chakrabarti's play, which premiered in 2012 and originally starred the playwright's husband, acclaimed English actor Adrian Lester, is one of those "mirror up to nature" types, in which the audience is meant to see the issues of their own day reflected back onto them. These sorts of works are a mixed bag—Tracy Letts's The Minutes at Steppenwolf, for instance, is as mixed as they come—but Red Velvet has the advantage of dissecting representation, activism, and political compromise in ways that will actually speak to its audiences. It's overly dialectical, and a little too pat, but it's presenting a dialogue worth having in a way that might encourage folks to actually have it.
In presenting theater about theater, Red Velvet plays the odds in its favor, giving itself a better chance to reach out into the house and actually slap some unsuspecting patron (perhaps even a donor) across the face and making them examine their own biases, their own resistance to change. It panders in the same way that the retreating Greeks pandered to the people of Troy by leaving them a large wooden horse at their gates.
Aldridge refused to pander, and he shouldn't have had to. Yet he still suffered the consequences. Red Velvet, on the other hand, panders beautifully, with strategic and ruthless grace.
Chicago Shakespeare Theater. By Lolita Chakrabarti. Directed by Gary Griffin. With Dion Johnstone, Chaon Cross, Greg Matthew Anderson, Michael Hayden, Jurgen Hooper, Tiffany Renee Johnson, Roderick Peeples, Annie Purcell, Bri Sudia. Running time: 2hrs 15mins; one intermission.