Reefer Madness at Circle Theatre | Theater review
The fevered war-on-drugs parody gets a high-energy production in Oak Park.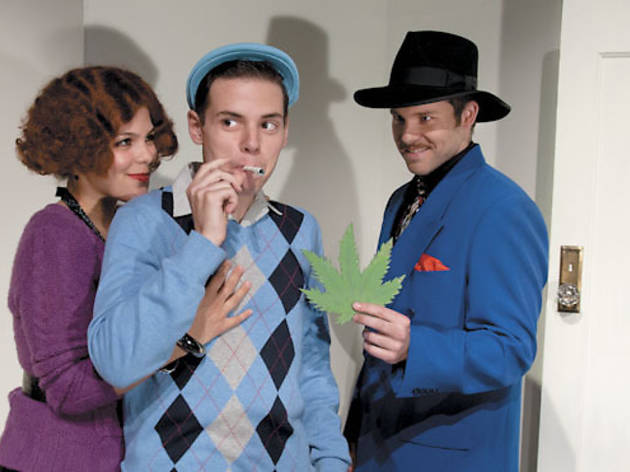 The 1936 propaganda movie Reefer Madness became a cult hit in the Cheech and Chong era, thanks to the film's overheated, unintentionally hilarious take on the dangers of marijuana—which is presented as having an effect comparable to that of meth-laced bath salts. In their 1998 musical spoof (later made into a Showtime movie), Kevin Murphy and Dan Studney exaggerate further, showing how, with just one puff, all-American teenager Jimmy Harper is transformed into a wild-eyed deviant. Over two acts, the catalog of depravity caused by cannabis includes vehicular homicide, promiscuity, cannibalism and cussing. Periodically, a showgirl parades across the stage with a placard bearing one dire warning after another, such as reefer makes you giggle for no good reason and reefer makes you sell your babies for drug money.
Though the musical is amusing in fits and starts, it suffers from a disposable pastiche score by Studney and an overlong book by Murphy, whose only joke, really, is that people in the past were squares. Still, Matthew Gunnels's staging has all the energy and some of the inventiveness that made Circle Theatre's Urinetown a success last season. Choreographer Brigitte Ditmars wisely embraces that production's everything-but-the-kitchen-sink approach, incorporating frantic swing-dancing, salsa and hip-hop, historical accuracy be damned. The cast is likewise keyed to the right fevered pitch, especially Jason Grimm as a school-assembly lecturer infected with war-on-drugs hysteria and Roosevelt University undergrad Ryan Stajmiger, who plays Jimmy with an air of perpetual panic.