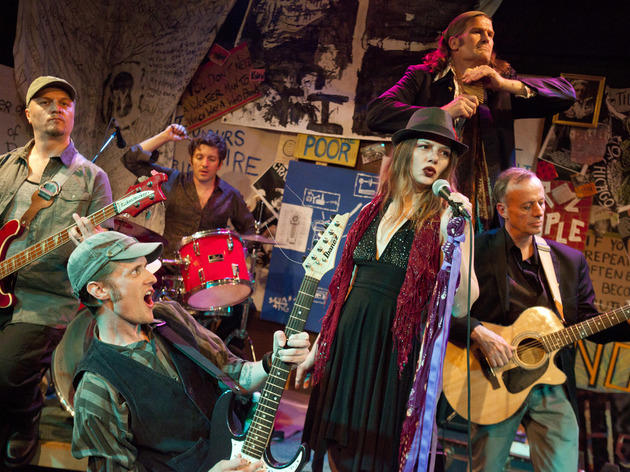 1/5
Photograph: courtesy of Trap Door Theatre
Regarding the Just at Trap Door Theatre
2/5
Photograph: courtesy of Trap Door Theatre
Regarding the Just at Trap Door Theatre
3/5
Photograph: courtesy of Trap Door Theatre
Regarding the Just at Trap Door Theatre
4/5
Photograph: courtesy of Trap Door Theatre
Regarding the Just at Trap Door Theatre
5/5
Photograph: courtesy of Trap Door Theatre
Regarding the Just at Trap Door Theatre
Trap Door Theatre. Translated and adapted by Pascal Collin and Nicolas Le Guével from Albert Camus's Les Justes. Directed by Valéry Warnotte. With ensemble cast. Running time: 1hr 30mins; no intermission.
Theater review by Benno Nelson
Albert Camus's 1949 play draws inspiration from the true story of a band of Russian socialist revolutionaries conspiring to kill a Grand Duke in 1905. When the Duke's niece and nephew are discovered in the carriage with him, the revolutionaries must decide to stick to the plan and kill these "civilians" too, or to show mercy and let the Duke live. In a time as veined with terrorism, surveillance and tyranny as our own, the philosophical questions at the heart of the piece are as relevant as ever: Do the ends justify the means? If there are things you won't do for your cause, do you truly believe in it? Who is a combatant? Unfortunately the production, which has strengths to recommend it, never quite matches that vitality.

The adaptation used here, by Pascal Collin and Nicolas Le Guével, is one source of that disconnect with the present. The language is choppy, and the decision to add songs to the piece, ostensibly to increase the emotional resonance of Camus's text, results in the opposite, since they only add another way of presenting the same arguments again. It's surprising that a production that goes to the trouble of adding a song titled "We All Live in a Terrorist Regime" (set to the Beatles' "Yellow Submarine") and peppering the theater with references to Edward Snowden and current events doesn't extend that modernization to update historical references onstage or engage in the complexities of Russia's—or anywhere's—current political climate.

As a performer, however, co-adapter Collin shines; his brief clown work in a Guy Fawkes mask is a highlight of the show—eerily signifying and a fresh breath of our contemporary visual culture. And as the perversely affable Chief of Police, he patiently wrings anxious laughs out of the audience.

Valéry Warnotte's direction too, keeps the play lodged somewhere in the middle distance. The set consists mainly of the instruments the actors play, underscoring themselves and creating a loose rock-show atmosphere. When this works it's great: The cast boasts some handy musicians, and playing in a band offers neat tricks such as drum-kit bomb blasts and an easily felt metaphor for the revolutionaries' collaborations. But it can also distract them occasionally, as in the few times actors take long walks across stage to say some particular phrase into a microphone. In a space as intimate as Trap Door, the added volume doesn't have much of an impact.