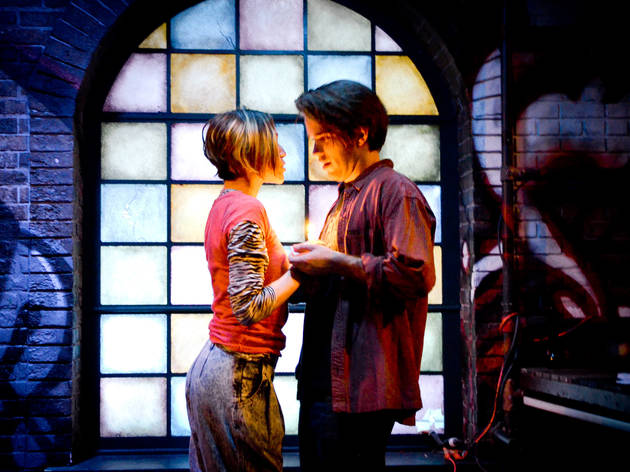 1/11
Photograph: Adam Veness
Rent at Theo Ubique Cabaret Theatre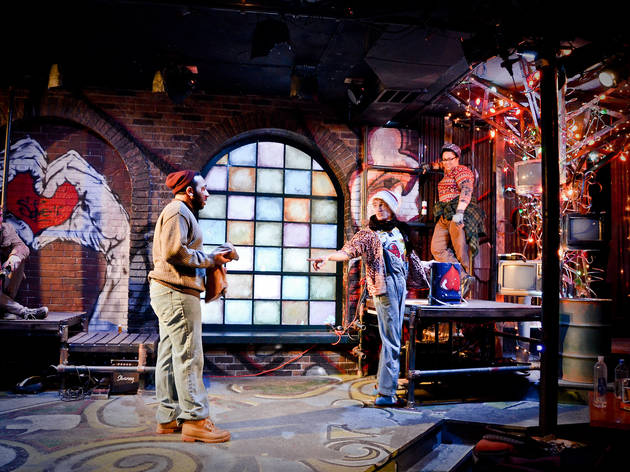 2/11
Photograph: Adam Veness
Rent at Theo Ubique Cabaret Theatre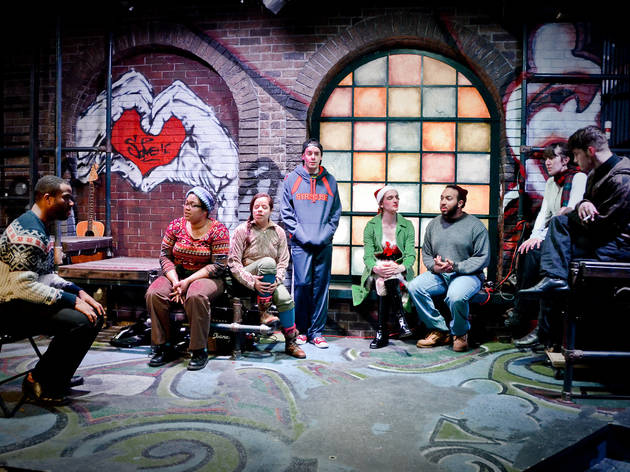 3/11
Photograph: Adam Veness
Rent at Theo Ubique Cabaret Theatre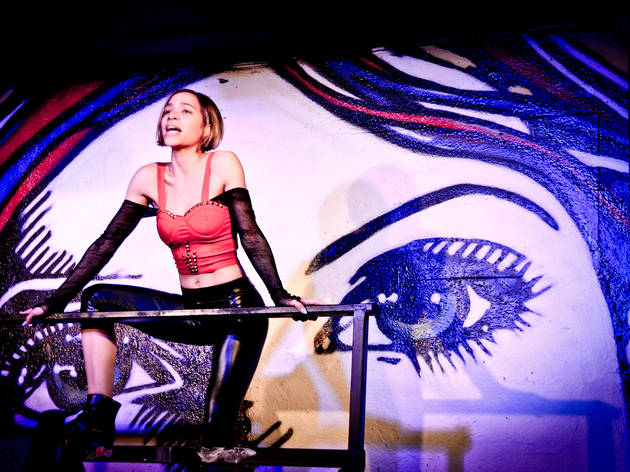 4/11
Photograph: Adam Veness
Rent at Theo Ubique Cabaret Theatre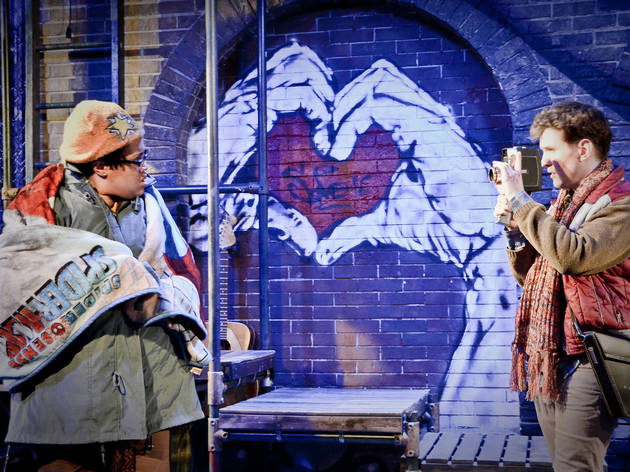 5/11
Photograph: Adam Veness
Rent at Theo Ubique Cabaret Theatre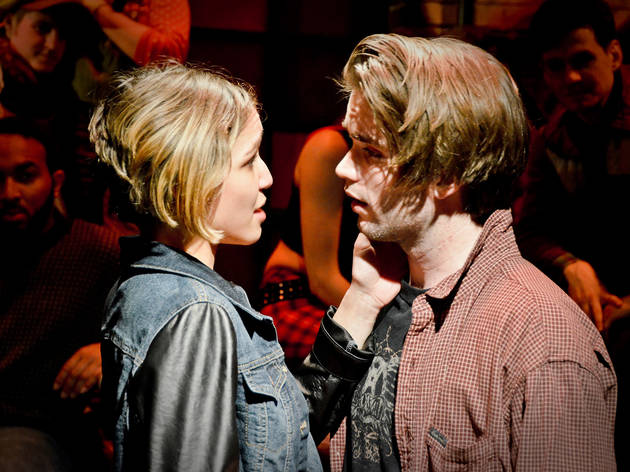 6/11
Photograph: Adam Veness
Rent at Theo Ubique Cabaret Theatre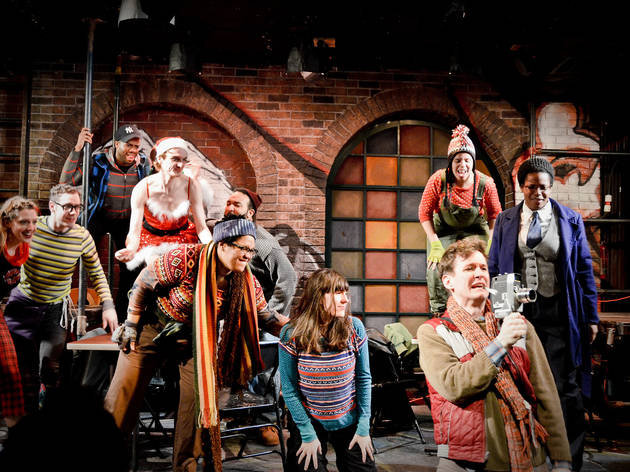 7/11
Photograph: Adam Veness
Rent at Theo Ubique Cabaret Theatre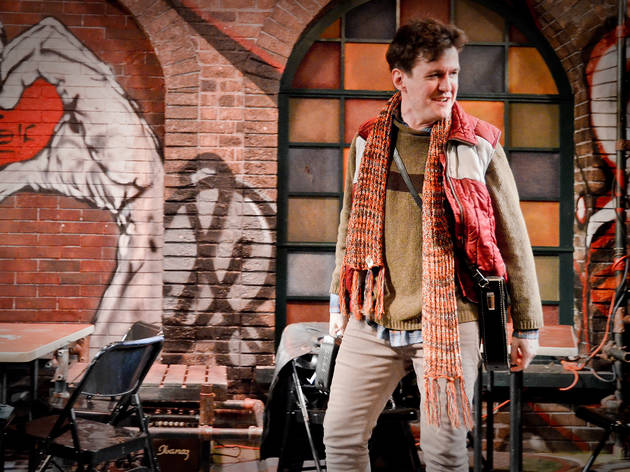 8/11
Photograph: Adam Veness
Rent at Theo Ubique Cabaret Theatre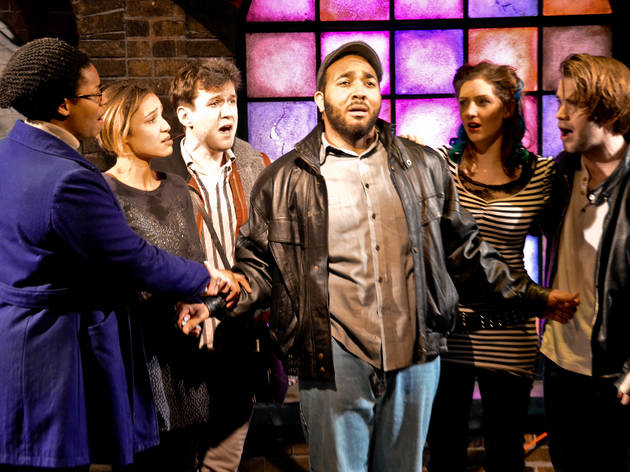 9/11
Photograph: Adam Veness
Rent at Theo Ubique Cabaret Theatre
10/11
Photograph: Adam Veness
Rent at Theo Ubique Cabaret Theatre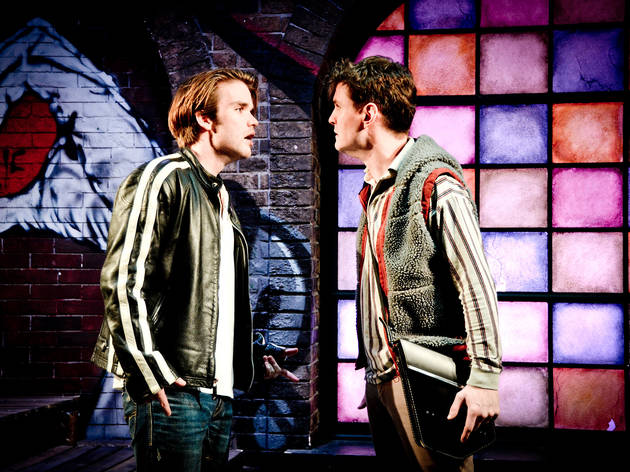 11/11
Photograph: Adam Veness
Rent at Theo Ubique Cabaret Theatre
A 'Rent' resized pays off for Theo Ubique.
Theo Ubique turns its postage-stamp sized Rogers Park performance space, the No Exit Café, into Alphabet City's Life Café in this intimate new production of Jonathan Larson's 1996 musical. Rent was, without the benefit of social media, very much the Hamilton of its day—a phenomenon that scored mainstream magazine covers and devoted young fans far beyond the usual Broadway output, with Larson's modern-boho riff on La bohème hitting a romantic chord in the Gen X heart.
Scott Weinstein's revival, which eschews the Madonna-style headset mics for unamplified vocals and an immersive staging, makes the whole endeavor feel remarkably fresh, even if the closeness amplifies some of the show's shortcomings.
Weinstein has assembled an impressive cast of young talent on the rise in Chicago's musical theater scene, and many of the leads offer appealing new angles on the original performances captured in the Broadway cast recording some of us wore out in our CD players.
Matt Edmonds puts a slightly more bitter spin on Mark, the aspiring filmmaker who provides much of the show's narration, while Chuckie Benson hits the mark on Tom Collins; Courtney Jones and Nicole Michelle Haskins are spot-on as on-again, off-again couple Maureen and JoAnne, even if at this short distance the fickleness of their relationship starts to show its seams.
Patrick Rooney and Savannah Hoover's central couple Roger and Mimi nail the look, temperament and chemistry, though their lyrics are too often lost to our ears in intimate moments. Still, as staged on Adam Veness's versatile scenic design (strafed with graffiti by nearly a dozen street artists) and featuring at its center, via Jeremy Ramey's resonant music direction, a "Seasons of Love" rendered in gorgeous and all-natural surround sound, this Rent attains a whole new currency.
Theo Ubique Cabaret Theatre. Book, music and lyrics by Jonathan Larson. Directed by Scott Weinstein. With ensemble cast. Running time: 2hrs 40mins; one intermission.