Rich and Famous at Jackalope Theatre Company | Theater review
A playwright craves fame and power in John Guare's dark farce.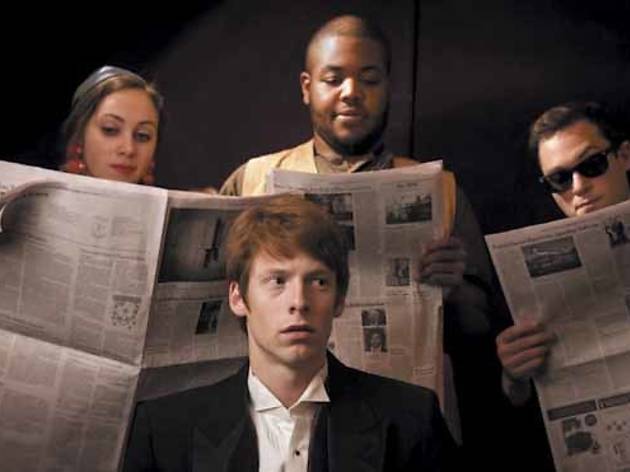 John Guare's work regularly engages with ideas of fame and success: the social-climbing con artist who claims to be Sidney Poitier's son in Six Degrees of Separation, the lauded outer-space explorer who "gives people dreams" in Marco Polo Sings a Solo, the strivers and connivers of Sweet Smell of Success. But none of these take on the allure of celebrity as directly, or as daffily, as 1974's Rich and Famous. Playwright Bing Ringling (a winning Andrew Burden Swanson) fears becoming "the World's Oldest Living Promising Young Playwright," and he's haunted by the success of his childhood friend, Tybalt Dunleavy, who stares down at him from the billboard for his new hit movie, Gangland. After writing 843 plays, Bing's finally seeing an opening night, for Spreaded Thin, an autobiographical piece based on Dante's Inferno. Little does Bing know his successful producer's pulling for him to flop (so she can have a comeback). Opening night turns into the writer's long dark night of the soul.
Guare's working in Mel Brooksian territory here (complete with a sprinkling of songs), but there's a darkness to his farce. In a fantasy sequence, a distraught Bing shoots his demanding, over-involved parents (the terrific Baize Buzan and Bernard Balbot, who with Torian Miller perform all of the play's non-Bing roles), only to hear them reply, "Under normal circumstances, we would die, but you know why we won't. They don't give Pulitzer Prizes to boys who kill their parents." Jackalope's microbudget production can't provide the old-school Broadway glamour or the seamless scene changes the playwright probably envisioned, but it substitutes an appealing scrappiness and heart.