Rock of Ages at Broadway Playhouse at Water Tower Place | Theater review
As the star-studded film adaptation hits multiplexes, the touring production of the tongue-in-cheek hair-band comedy returns for a multiweek run.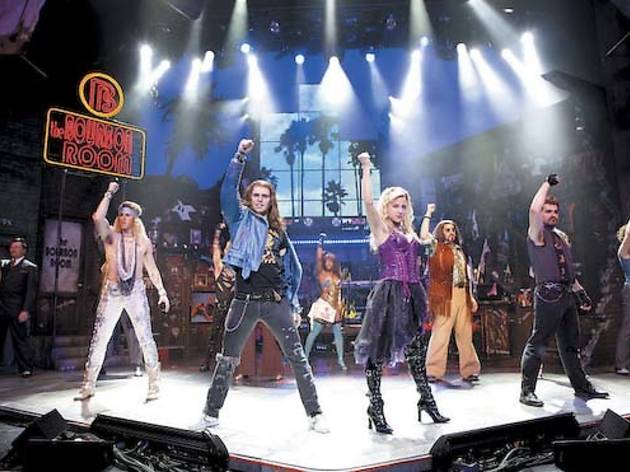 The movie version of Rock of Ages, starring Tom Cruise's abs, opens this week at a multiplex near you (see Film, Reviews). For way higher ticket prices, you can also catch this touring incarnation of the 2009 Broadway hit—a tongue-in-cheek celebration of Reagan-era hair bands featuring the music of Twisted Sister, Foreigner, Journey, Poison and others.
As in the fizzy musical comedies of Tin Pan Alley, the story here exists merely to get us from one song to the next, reliably yielding idiotic situations. At one point, a father challenges his son to a fistfight so that the son has an excuse to sing "Hit Me with Your Best Shot." Playwright Chris D'Arienzo sets the action at a grungy club on L.A.'s Sunset Strip, where aspiring rock god Drew (Dominique Scott) struggles to win the hand of waitress Sherrie (Shannon Mullen), despite interference from a Bret Michaels/David Lee Roth hybrid called Stacee Jaxx (Matt Nolan, who gives Cruise a run for his money, abs-wise). Meanwhile, evil Germans plot to gentrify the neighborhood.
Fortunately, D'Arienzo doesn't take it all very seriously, inserting a narrator-cum-id (Justin Colombo, doing his very best Jack Black impression) to deflate the music's bombast. Even so, the jokes are pretty feeble ("Stars are undeniable—like herpes"), and all the women's lines sound like they were written for Kelly Bundy of Married…with Children. As for the songs, a full evening of anthems and power ballads eventually grows tiring, but just try to resist Whitesnake's "Here I Go Again."