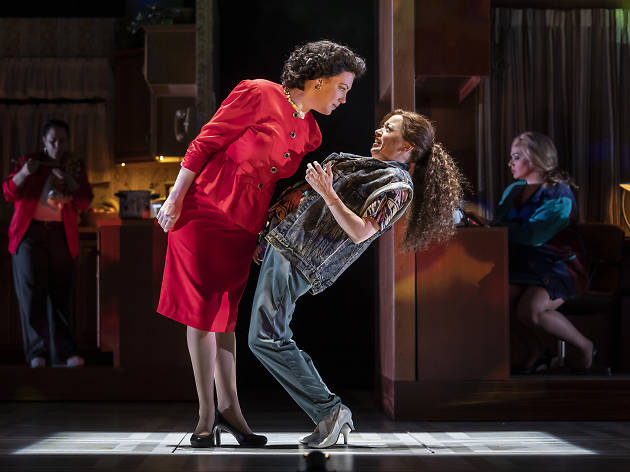 Time Out says
Theater review by Alex Huntsberger
To write about any political issue with the studied even-handedness that Lisa Loomer brings to Roe is difficult enough. To do so on the subject of abortion, the hottest button there is, seems downright quixotic. But Loomer manages to ground both her story and her theatrical gestures in facts—even when those facts are in dispute.
Loomer employs Roe v. Wade plaintiff Norma McCorvey (Kate Middleton) and her attorney Sarah Weddington (Christina Hall) as the play's dueling centrifuges. Presented in the form of contrasting narratives from the perspectives of its two protagonists, Roe provides a blow-by-blow account of the historic case and traces the women's lives over the following decades. Weddington, who was only 25 years old when she began working with McCorvey in 1970, goes on to a successful law career. McCorvey finds some peace with her long-term girlfriend, Connie Gonzales (Stephanie Diaz), but zigs and zags from anonymous plaintiff to celebrated liberal mascot to Planned Parenthood worker; finally, she becomes a conservative pro-life firebrand aligned with the church of Operation Rescue leader Flip Benham (Ryan Kitley). In Loomer's estimation, both political sides used McCorvey as little more than a disposable prop for their own ends.
Director Vanessa Stalling brings the script's plucky, whirlwind-of-history vibe to life in a lively and emotional production. Although the play takes place under an imposing Supreme Court–esque set by Collette Pollard, Roe is decidedly un-monolithic. It allows for tangents, bickering and asides to the audience; several supporting characters—such as McCorvey's nurse friend (Jessica Dean Turner), Weddington's law partner (Meg Warner) and Supreme Court Justice Harry Blackmun (John Lister)—get to share their sides of the story. Whenever the show's pep risks making it seem overly simplistic, something more somber is usually just a few beats ahead.
Although Roe has a fundamentally pro-choice framing, and includes a timely reminder that right-wing Christianity is often suffused with homophobia, Loomer makes a cogent case for how the debate as a whole might benefit from greater empathy, humility and grace. She generously looks for good-faith answers wherever she can. But as Roe concludes on a fittingly uncertain note—and with the future of Roe v. Wade itself now very much in doubt—one has to wonder if such faith will be rewarded.
Goodman Theatre. By Lisa Loomer. Directed by Vanessa Stalling. With Kate Middleton, Christina Hall. Running time: 2hrs 5mins. One intermission.
Details
Users say