Romeo and Juliet at First Folio Theatre | Theater review
An outstanding cast renders the familiar tale anew in First Folio's terrific outdoor production.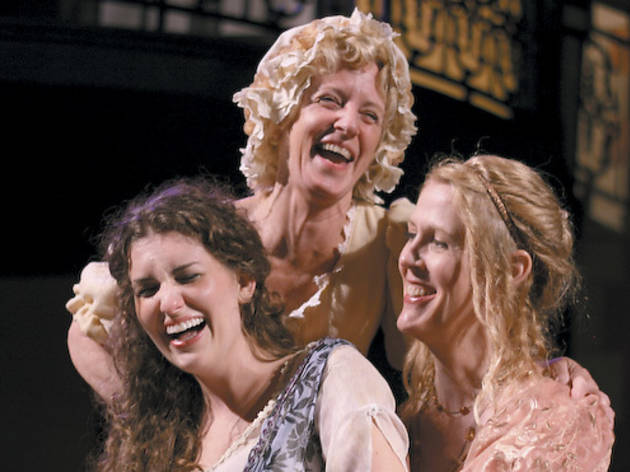 First Folio's summer Shakespeare under the stars invites the audience to bring a bottle of wine and some bug spray and take in the kind of Romeo and Juliet production Bard buffs should salivate over: tragic, yes, but bitingly funny and dynamically staged. Director and fight choreographer Sandys and an epically terrific cast bring a fresh exuberance to scenes so well-known they can border on rote.
Everything here is done with wit and an eye toward unexpected characterization. It's difficult to imagine a more ecstatic, awkward or charming balcony scene than what Allan and a masterful Brennan create. Their chemistry eschews sighs and doe-eyed stares for the kind of bumbling frenzy these star-crossed, slightly unstable teenagers deserve. He's no Casanova, she's no delicate prize—it's fantastic to watch. They're supported by a knockout cast, particularly Gray's devilish, drug-addled Mercutio and Dreier, who—perhaps a historic first—nearly steals the show as Friar John.
Sandys's central conceit—setting the action in 1818 and forcing a kind of macabre, Shelleyesque foreboding featuring copious thunder claps—is a stumbling block. While it makes for a great set and costumes, Brennan is absolutely robbed when her tortured deliberation over whether or not to swallow the Friar's potion is superseded by smoke machines and a bat-winged imp. Her work is so captivating, so dialed in, that any technical magic that pulls a single eyeball from her should be considered a crime.