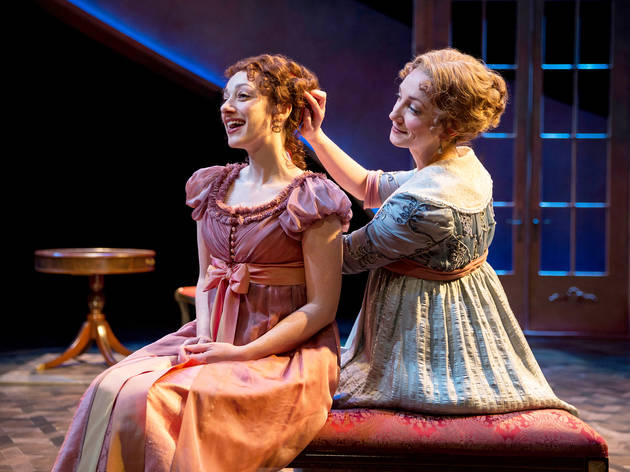 1/6
Photograph: Liz Lauren
Megan McGinnis and Sharon Rietkerk in Sense and Sensibility at Chicago Shakespeare Theater
2/6
Photograph: Liz Lauren
Megan McGinnis and Peter Saide in Sense and Sensibility at Chicago Shakespeare Theater
3/6
Photograph: Liz Lauren
Wayne Wilcox and Sharon Rietkerk in Sense and Sensibility at Chicago Shakespeare Theater
4/6
Photograph: Liz Lauren
Sean Allan Krill in Sense and Sensibility at Chicago Shakespeare Theater
5/6
Photograph: Liz Lauren
Sharon Rietkerk and Megan McGinnis in Sense and Sensibility at Chicago Shakespeare Theater
6/6
Photograph: Liz Lauren
Megan McGinnis in Sense and Sensibility at Chicago Shakespeare Theater
It's hard to see the sense in this bland new musical adapted from Jane Austen.
This new musical, commissioned by Chicago Shakespeare Theater, is the latest in a string of stage adaptations of Jane Austen's first novel. Locally, Northlight Theatre staged Jon Jory's non-musical version in 2011; another by Joe Hanreddy and J.R. Sullivan premiered last year at the Utah Shakespeare Festival. A separate musical adaptation, by Jeffrey Haddow and Neal Hampton, opened at Denver Center Theatre Company in 2013. Which makes one question the sense and the sensibility that went into producing this dully pretty new iteration by Paul Gordon.
Gordon wrote the score for a 2000 adaptation of Charlotte Brontë's Jane Eyre that earned him a Tony Award nomination (his only Broadway outing thus far), and has subsequently made regional-theater hay with adaptations of Austen's Emma and Jean Webster's Daddy Long Legs (also, coincidentally, seen at Northlight in 2010). But in expanding his cottage industry to the Dashwood sisters' Barton Cottage, Gordon and director Barbara Gaines have flattened the story.
Austen may not have been at her most subtle in depicting the differing outlooks of sisters Marianne (Megan McGinnis as the younger, more emotionally-driven "sensibility") and Elinor (Sharon Rietkerk, whose portrayal of "sense" suggests a deep affinity for Emma Thompson's take in the 1995 film adaptation). But Gordon's rendition of the characters is like taking a highlighter to Cliffs Notes.
The men in their lives—Elinor's painfully shy soulmate Edward Ferrars (Wayne Wilcox) and Marianne's dual suitors, the stolid Colonel Brandon (Sean Allan Krill) and seductive cad Mr. Willoughby (Peter Saide)—are uniformly underwritten, though the actors, like Rietkirk and McGinnis, do their best to inject their characters with personality.
Gordon's score occasionally finds a clever idea, like Brandon's wry number about being on the "Wrong Side of Five & Thirty," but leans too heavily on them when it does. For the most part, the music blurs together into an indistinguishable mass of soaring notes endlessly reprised. And Gordon's book, with a sitcom-y quippiness that wouldn't have been out of place in '90s-era Must-See TV, reveals an all too modern sensibility.
Chicago Shakespeare Theater. Book, music and lyrics by Paul Gordon. Directed by Barbara Gaines. With Sharon Rietkerk, Megan McGinniss, Wayne Wilcox, Peter Saide, Sean Allan Krill. Running time: 2hrs 40mins; one intermission.