Sense and Sensibility at Northlight Theatre | Theater review
Jon Jory crosses Austen city limits with a solid, sensible adaptation.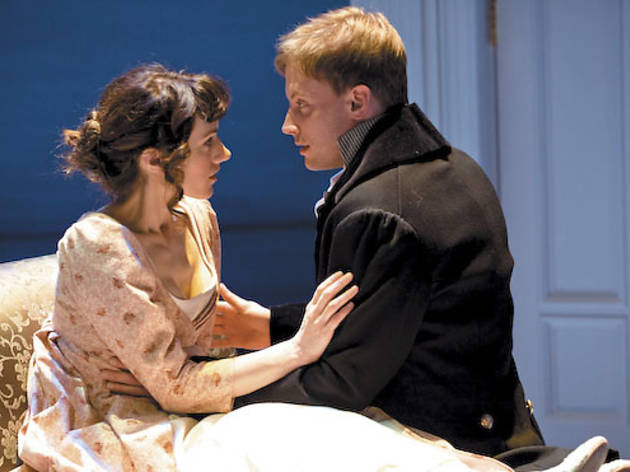 Jane Austen turned her hand to dramatic adaptation on at least one occasion; her only surviving dramatic work stages scenes from Samuel Richardson's novel Sir Charles Grandison, most likely for private performance. So the novelist would likely approve of Jory's efforts, which deftly turn her 1811 fable about the Dashwood sisters into a quick-moving and sprightly comedy. The adapter wisely forgoes any attempt to transfer Austen's inimitable narrative voice, trusting in her canny sense of character and incident to convey the story's wry insight and emotional depth.
The Northlight production is not without missteps. While Kettenring plays earnest Elinor with a grounded authority, the willowy Sadler, though physically right for the part, has a brooding sharpness better suited to a Brontë heroine than the fanciful Marianne. And Tom Burch's set, which could have been poached from a '70s production of Twelfth Night, sits awkwardly between representation and abstraction. But the production also boasts a rich panoply of supporting performances, including Wendy Robie's lovably meddlesome Mrs. Jennings, Whittaker's stalwart Colonel Brandon, and a fine comic turn by V. Craig Heidenreich as the bluff Sir John Middleton. The play never quite escapes its native Masterpiece Theater sensibility, but it's still a sensible choice for Austen's numberless fans.