Shakespeare 400 Chicago
Chicago is commemorating the 400th anniversary of Shakespeare's death with a slew of local and international programming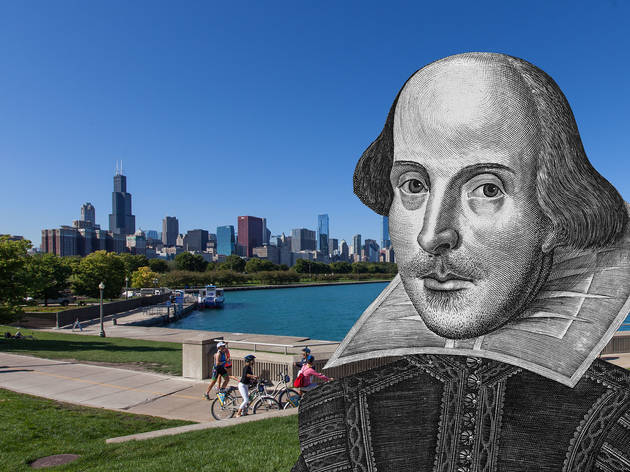 William Shakespeare shuffled off this mortal coil in 1616, leaving behind a prolific collection of plays, sonnets and the like that's had an arguably unmatched influence on Western culture. To mark the 400th anniversary of his death, Chicago Shakespeare Theatre is spearheading a new year-long festival of performances, panels and more exploring the Bard's work from dozens of angles. The events won't be confined to CST's Streeterville home; they'll take place at venues across the city and suburbs, including parks, museums and even some of the city's best restaurants. The initial slate runs into April, with more announcements expected later in January; we'll update this guide as they come.
Shakespeare 400 Chicago events
Director Declan Donnellan of Britain's Cheek by Jowl stages the Moscow Pushkin Drama Theatre's production of Shakespeare's tale of morality and corruption. Performed in Russian with English supertitles.
Read more
The Chicago Symphony Orchestra and Chicago Shakespeare Theater combine forces for this kid-friendly concert, combining Chicago actors and the CSO orchestra to alternate scenes from Shakespeare's comedy with excerpts from Felix Mendelssohn's music for the play.
Read more
Actors from Chicago Shakespeare Theater, including artistic director Barbara Gaines, join the singers of Chicago a cappella for a program of sonnets and soliloquies set to music.
Read more
British actor Paterson Joseph wrote and performs this solo piece about Charles Ignatius Sancho, a prominent but little-remembered black man in 18th-century England.
Read more
Lyric presents director Bartlett Sher's staging of Charles Gounod's operatic take on Shakespeare's star-cross'd lovers as part of Shakespeare 400 Chicago.
Read more
Hamburg Ballet's interpretation of the tragedy of Othello, Desdemona and Iago, created by the company's artistic director, John Neumeier, features music by Arvo Pärt, Alfred Schnittke and Naná Vasconcelos, performed here by the Chicago Philharmonic Orchestra.
Read more
Rockefeller Chapel's professional vocal ensemble, the Decani, performs a cappella renditions of music by Thomas Tallis and other Elizabethan composers, as well as settings of Shakespeare texts by Pulitzer Prize–winning composer and U. of C. music professor Shulamit Ran.
Read more
The UK company Filter Theatre's playful version of Shakespeare's comedy of mistaken identities and misplaced affections, created for the Royal Shakespeare Company's Complete Works Festival in 2006, is marked by raucous, immersive music and sound design.
Read more