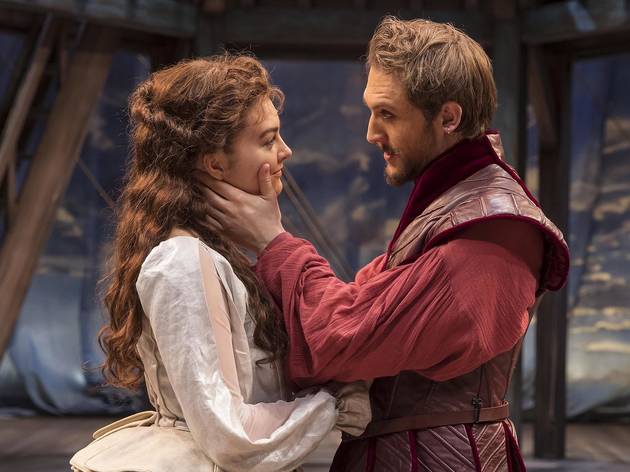 1/6
Photograph: Liz Lauren
Shakespeare in Love
2/6
Photograph: Liz Lauren
Shakespeare in Love
3/6
Photograph: Liz Lauren
Shakespeare in Love
4/6
Photograph: Liz Lauren
Shakespeare in Love
5/6
Photograph: Liz Lauren
Shakespeare in Love
6/6
Photograph: Liz Lauren
Shakespeare in Love
Both Shakespeare fan fiction and love letter to theater, the stage adaptation of the Oscar-winning movie fits right in at Chicago Shakes.
The 1998 film Shakespeare in Love, from a screenplay by Marc Norman and Tom Stoppard, imagines a Shakespeare who's equal parts dashing and dashed. Not yet celebrated by his contemporaries and stuck on an idea for the next play he needs to crank out fast to pay off debts, handsome Will hits the jackpot when a young noblewoman smitten with the stage disguises herself as a man to audition for the new play and winds up smitten with the playwright as well. The star-cross'd romance between Will and Lady Viola ends up fueling the script he's writing, which becomes Romeo and Juliet.
Perhaps it's shouldn't be much surprise that this Oscar-pedigreed Shakespeare fanfic turns out to be prime Chicago Shakespeare Theater material: a Hollywood romcom dressed up to feel like Shakespeare (credit Stoppard's punching up of Norman's original concept, faithfully translated in the stage adaptation by Billy Elliot writer Lee Hall), served with a backstage plot that lets us feel like theater insiders and Easter eggs to reward our knowledge of the canon.
Rachel Rockwell's production is handsome and enjoyable, to be sure, dotted with pleasing turns by Chicago stalwarts like Larry Yando and Ron Rains. Of the two leads, both New York–based young actors making their Chicago debuts, Kate McGonigle fares slightly better, crafting a more robust and playful Viola than Gwyneth Paltrow's Oscar-winning performance; Nick Rehberger, as Will, has the same problem Joseph Fiennes did in the film: His character's name is in the title, but everything seems to happen to him rather than because of him.
Chicago Shakespeare Theater. Based on the screenplay by Marc Norman and Tom Stoppard. Adapted by Lee Hall. Directed by Rachel Rockwell. With Nick Rehberger, Kate McGonigle. Running time: 2hrs 30mins; one intermission.