Side Effects May Include… at MadKap Productions | Theater review
A solo piece provides a warm and humorous viewpoint on degenerative disease.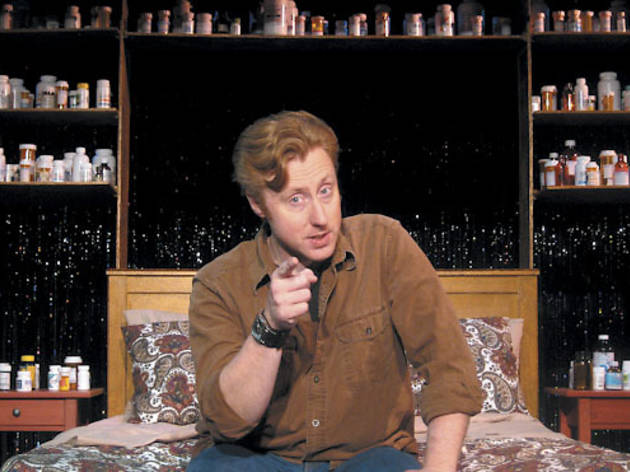 Pills are taking over Phil Rosen's life. When the stand-up comedian's wife is diagnosed with Parkinson's disease, he finds himself faced with massive pharmaceutical bills and lists of side effects so long that the show takes an intermission in the middle of them. One of those effects is a heightened sex drive—giving Phil's marriage the boost in intimacy he always wanted but leading to another batch of pills as he struggles to keep up with his wife's new urges.
Eric Coble and former Seinfeld writer Marc Jaffe's 2011 solo piece takes a humorous look at coping with a degenerative, incurable disease. Even the set has a sense of humor: Robert D. Estrin's design is littered with pharmaceuticals, complete with stage lights encased in empty orange pill containers.
Despite Phil's ability to laugh at his situation, there's an undercurrent of fear and grief as he worries about the future and how the disease will impact his teenage daughter. Versatile actor Andrew J. Pond navigates Phil's complex emotional arc with ease. He's a skilled impressionist, creating distinct characterizations for Phil's stand-up enthusiast rabbi, horny wife and hormonal daughter. Pond takes on the script's various roles with vigor, never letting the energy flag.